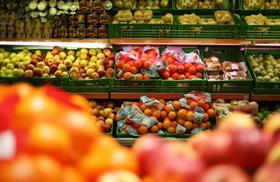 Much has been made of the measures taken by packaging manufacturers, suppliers and retailers to make fresh produce packaging more sustainable. In the past two years, consumer pressure has created genuine urgency to find renewable and recyclable alternatives to single-use plastics, and several retailers have made significant commitments to switching to more environmentally friendly packaging. But there remains a major obstacle to change, and as usual it's cost.
At FPJ Live last month England Marketing revealed exclusive research showing that although the majority of UK consumers would like to see less plastic used on their fresh produce, few are willing to pay extra for a more sustainable alternative. In the survey, only 17 per cent said they would pay more for environmentally friendly packaging, while 33 per cent said they definitely wouldn't.
"Demand for sustainable packaging comes down to how much it will hit the consumer in the pocket," England Marketing's Carolyn Hudson told FPJ Live. "We found that higher-income shoppers, those who shopped at Waitrose or Ocado, for example, were the ones who said they would definitely pay more for recyclable packaging, whereas lower-income shoppers baulked at the idea. This comes down to the fact that a lot of people are really struggling to buy food at the moment, so they felt that if they had to pay more, that would create an issue. The more well-off people want to do the right thing, but the poorer can't afford to pay any more."
Amaia Cowan, the business development manager of Futamura, which develops renewable and compostable cellulose films for the flexible packaging industry, strikes a similar tone. "There are many viable sustainable packaging options already in the market for fruit and veg," she says, "but it ultimately comes down to cost. Typically, the more sustainable alternatives do not benefit from the economy of scale in the way that the large petrochemical plastic companies do."
Despite these drawbacks, there is also evidence to suggest the media's coverage of ocean pollution and the dangers of single-use plastics is having a real impact on people's shopping habits. According to a survey conducted by Pro Carton, the European Association of Carton and Cartonboard Manufacturers, some 74 per cent of Europeans said media attention on packaging waste influences the type of purchases they make. Meanwhile, another study commissioned by the group found that almost a third of marketing professionals (31 per cent) said that sales of FMCG products actually increased when packaging is switched to something more environmentally friendly.
Pro Carton's general manager Tony Hitchin, perhaps unsurprisingly, argues that cartonboard is the most sustainable form of packaging available since it is completely biodegradable and renewable, coming from trees grown in sustainably managed forests and recycled materials. According to the association, around 85 per cent of paper and cardboard packaging in Europe is already sent for recycling, and paper fibres can be recycled up to 25 times.
A better option still – if possible – is to remove packaging entirely and sell produce loose, however this approach can come with unintended consequences. While some products like oranges and easy peelers should arguably all be sold packaging free, others like cucumbers benefit from significantly longer shelf like if wrapped in plastic. "It is important to note that packaging serves a purpose," says Cowan, while Hitchin believes it is "more a question of encouraging retailers and their suppliers to explore and invest in alternatives to non-sustainable materials rather than considering whether to remove packaging altogether".
Increasingly, packaging is being designed to actively slow down the natural breakdown of a product, while maintaining carbon dioxide and moisture vapour levels and accommodating various oxygen transmission rates through the material in order to extend shelf life. Futamura's renewable and compostable NatureFlex films are permeable to moisture, but by using specially designed coatings the exact water vapour transmission rate of the pack can be tailored to suit the particular characteristics of the product. In addition to packaging, NatureFlex can be used to make compostable fruit labels that can then be composted with the fruit peelings.
Another company launching some exciting new packaging is the Italian multinational Sorma Group, which is creating a whole line of plastic-free packaging, converting every single product into a new, 100 per cent compostable version. Its Vertbag, for example, consists of a band made from a special compostable paper and a net produced in a compostable plastic-free blend. The Sormabag, meanwhile, is made entirely from a compostable blend, both the handle and net.
"The challenge was to create a material which would maintain satisfactory technical characteristics throughout the pack's lifetime, from production to pack warehouse, and from shelf to disposal, and thus guarantee the shelf life of the product inside," says group chief executive Andrea Mercadini. "The biggest innovation is that the line was created by only changing the material of which the packs are made and not by modifying the machines, so anyone adopting these solutions will not have to make any changes to their existing packaging systems".
He stresses, however, that the new line is "no substitute for responsible behaviour on the part of consumers when disposing of the material". Indeed, there is considerable work to be done in improving consumer awareness on how to recycle, as well as creating a more uniform and easy-to-use recycling system in the UK.