New Covent Garden Market shows its support for UK producers as an official partner of British Food Fortnight 2023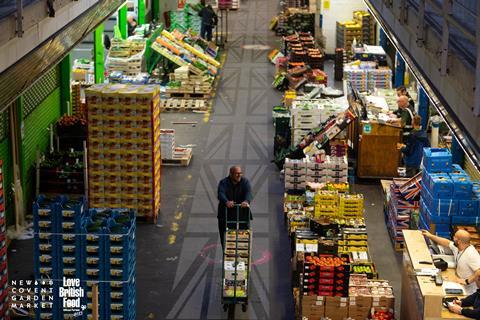 Leading London wholesale market New Covent Garden Market (NCGM) is demonstrating its support for UK growers this year by backing British Food Fortnight (BFF) 2023.
BFF, which runs from 16 September through to 1 October, is the largest annual national celebration of British food, organised by Love British Food to coincide with the traditional harvest festival period.
In its 22nd year, the two-week showcase invites communities and organisations across the country to celebrate the diverse, high-quality food produced by British growers and manufacturers.
BFF supporters are varied, ranging from schools, hospitals and care homes, to restaurants, hotels, supermarket chains and independent retailers.
As an official BFF partner, NCGM, which sells huge volumes of British fruit and vegetables year-round, will be hanging out the bunting and highlighting trader links with British growers throughout the fortnight.
Among the market's BFF initiatives, Rushton's the chef's greengrocer is using social media to highlight some of the great things happening within its British grower network, including regenerative farming projects and various other forms of responsible farming.
Two local primary schools will receive a teaching pack and three different English apples varieties during BFF, allowing around 550 children to learn more about apples, health and nutrition and of course their local wholesale market.
And NCGM traders will resume their initiative to supply student chefs at Westminster Kingsway College with a different British fruit or vegetable each month to study and incorporate into the incredible dishes they create for the on-site restaurants.
NCGM press officer Tommy Leighton commented: "While the traders at New Covent Garden Market of course sell world class, seasonal fresh produce from all corners of the globe, everyone at the market is extremely proud of the relationships we have with British growers. Many of the businesses here have been working with the same British suppliers for several decades, through generations of families on both sides, and of course there are also new suppliers selling into the market every year.
"The beginning of the season for any British product generates excitement – there's no doubt that the demand for homegrown fruit and vegetables remains very high across the independent retail, catering and hospitality sectors, because they know that their customers want to buy British too," he added. "The ethos and values of British Food Fortnight reflect our passion for our suppliers and for what we do, and we're keen to use the fortnight to make British consumers more aware that they can buy top class, affordable British produce from their local, independent businesses."