"The world has got it wrong," says creator of Fyffes' new label, which promises support for female empowerment, education, and child nutrition
Leading supplier Fyffes, famously the first company in the world to put a branded label on its fruit, has unveiled a new consumer brand for bananas that it says will address the widespread devaluation of fresh produce.
The new label, called Trudi's, is designed to tap into growing demand for responsibly sourced products, and to open consumers' eyes to the real cost of producing the fruit.
In the UK, one of Fyffes' most important markets, the price of bananas is estimated to have fallen by over 30 per cent in the last three decades, despite recent inflation.
"The devaluing of fresh fruit over many years has had huge implications for the families and communities that dedicate their lives to growing it," comments Adriano Di Dia, chief marketing officer at Fyffes International.
With a tagline of 'Good Fruit Doing Good', Trudi's is apparently set tackle the issue head on. According to the company, it will offer support to people in the fruit trade in key areas of corporate social responsibility, specifically female empowerment, education, and child nutrition.
"We want to become famous for being the bananas that give back, because it means a lot to the values of Fyffes, the future of the industry, but even more to those who need it most today," Di Dia adds.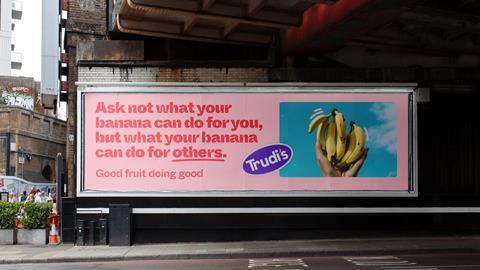 The launch follows the recent appointment of Impero, a strategic and creative agency based in London and Buenos Aires, which created the new brand on Fyffes' behalf.
And the company says it is throwing plenty of its marketing budget behind Trudi's, with a campaign designed to raise the brand's profile and carry its message to consumers in key markets.
"I think the world has got it wrong," says Impero founder Michael Scantlebury. "How can a fresh, delicious, natural piece of fruit that's come from the other side of the world and arrived in our homes perfectly ripe be valued in many supermarkets far less than highly processed, fake fruit-flavoured products that won't go off a year from now?"
The impact of that imbalance is "huge", he adds. "Trudi's is here to change that. And we're super proud to be working with Fyffes International to make it happen."