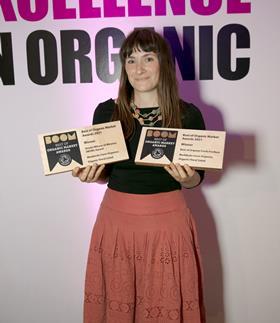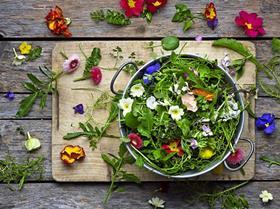 A floral salad has won the top prize at the Soil Association's Best of the Organic Market (BOOM) Awards, landing a listing at fast-growing online retailer Ocado.
The bagged Flower Salad from Maddocks Farm Organics includesno lettuce and "very little that you might recognise as conventional salad leaves", according to the producer.
The producttook the Winner of Winner's prize, opening up the possibility of a listing at Ocado, subject to food tech and the mutual agreement of commercial terms.
Meanwhile, Zaytoun Organic Extra Virgin Olive Oil took the Nation's Favourite award – one of only two accolades at the BOOM Awards voted by the public.
Other notable wins outside the food and drink product categories, included came from Coombe Farm Organic (Best Box Scheme), Abel & Cole (Best Online Retailing), and Better Food (Best Independent Retailer).
The organic market is now worth £2.79billion having grown by 12.5 per cent in 2020, according to Nielsen.
The sector's growth has sinceslowed to 9.4 per cent as shopping behaviour has returned to some degree of normality. Meanwhile, non-organic sales growth has slowed from 8.9 per cent to 5.6 per cent.
Jan Billington from Maddock's Farm Organics said: "Growing organic edible flowers has been at the core of our business and whilst we are only a small three-acre farm, we're excited to begin discussions with Ocado, in the hope that more people will get to enjoy our products."
The Soil Association'sClare McDermott added: "The return of the BOOM Awards in 2021 has landed at a time when the organic market is simply booming. It's clear that habits made in last year's first lockdown – for example, soaring demand for organic veg and fruit box schemes, people increasingly choosing to shop in their local independent retailers, or buying direct online for choice– have stuck."
The Best of the Organic Market (BOOM) Awards, organised by Soil Association Certification and headline sponsored by Ocado, celebrate the businesses, producers and brands working hard to produce organic food and drink, as well as recognising those innovating in the organic sector more broadly.
Later this summer, the Soil Association's celebrations of the sector will continue with Organic September. Running throughout the month, organic producers will come together in a joined-up campaign to reinforce the message that organic has benefits for nature and the planet.
Retailers, brands, restaurants and caterers are being encouraged to get involved by visitingthe Soil Association websitewhere various resources can be found.