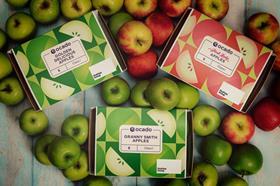 Ocado has switched to new sustainable packaging for three apple varieties in a bid to remove hard-to-recycle plastic from its supply chain.
The fully recyclable Pro-Produce pack has been launched for Pink Lady, Granny Smith and Golden Delicious apples following a successful trial completed in July.
The move from bubble wrap and label to printed cardboard will prevent unnecessary waste to landfill andeliminate almost 12 tonnes of hard-to-recycle plastic annually.
The launch is a collaboration between Ocado, producers OrchardWorld and Peake fruit, linerless packaging experts Ravenwood Packaging, and packaging printer ProPrint Group.
The bubble wrap used in the existing Ocado apple packaging was mainly designed to protect the fruit and avoid food waste.
The Ocado-branded Pro-Produce pack combines a food-grade board printed 'lid' applied to a nested cartonboard tray using a Ravenwood Linerless applicator, giving the pack a premium look.
Trials showed that the pack supports and protects apples through their journey as well as being easy to recycle. Consumers can easily recycle both components together at their doorstep.
The new packaging technology, which is reported to have received excellent reviews from Ocado customers, has also doubled the packing speed.
As part of its overall strategy and as signatories of the UK Plastics Pact, Ocado has committed to reduce its dependence on plastic and use 100 per cent recyclable packaging for all own-label products by 2023.
'The Pro-Produce pack has enabled us to accomplish the two key design criteria we set ourselves when seeking to remove the hard to recycle plastic bag from our supply chain," said Mike Jobbin of OrchardWorld.
"The move to cardboard has enabled us to meet our target to use a 100% recyclable packaging material. The tray and lid design have also allowed us to maintain the required product protection throughout OrchardWorld and Ocado's supply chain."
Ocado's sustainability lead Daniel Costigan added: "Our team is hard at work developing more packaging innovations for our extensive range."