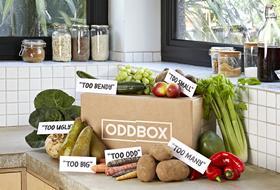 Wonky veg box scheme Oddbox has welcomed a new report from WWF and Tesco quantifying the global impact of food loss and waste on farms, saying "action starts with awareness".
The Driven to Waste report, published on 21 July, estimates that 2.5 billion tonnes of foodgoes uneaten around the world each year. That is an increase of approximately 1.2 billion tonnes on the established estimates of 1.3 billion tonnes wasted each year.
These new estimates indicate that of all the food grown, approximately 40 per cent goes uneaten, which is higher than the previously estimated figure of 33 per cent.
"Over 50 per cent of food that goes uneaten is lost on farms, but this is not just an issue in developing regions,"said Pete Pearson, global food loss and waste initiative lead at WWF.
"Driven to Wasteshows us more food is lost on farms per capita in very advanced supply chains like the US and Europe. Food loss and waste, and on-farm food loss, is a global problem."
Reacting to the report, Oddbox CEO and co-founder Emilie Vanpoperinge said: "Action starts with awareness and actual data on food waste at farm-level has been greatly missing, though it is always shocking to see such massive figures.
"We wanted to put its key finding – that one billion more tonnes of food is wasted globally than previously reported – into terms that people can relate to.
"At Oddbox we use our own Oddbox impact methodology to calculate the positive impact that our community are having when they choose our fruit and veg rescued from the farm.
"Using the same approach, we can reveal that the 1.2bn tonnes of produce wasted each year is equivalent to how much food 2.6 billion people, 34 per cent of the Earth's population, would eat in a year.
"When food goes to waste, a huge amount of natural resources used to grow that food also goes to waste. WWF reports that 760km³ of water and 2.2 gigatonnes of CO2e is used growing food which ends up being wasted.
"Using our same methodology we can also reveal that this is the equivalent of more than how much water our whole population drinks in their lifetime, and enough energy to power over 500 million homes for a year."
Driven to Wasteis the first quantification of total on-farm food losses since 2011. When combined with updated data on loss in supply chains and waste at retail and consumption, it gives a clearer picture of the scale of food loss and waste from farm to fork that demonstrates for the first time how importantant it is that this stage is no longer overlooked in efforts to keep global warming below 1.5°C.
To tackle the crisis, WWF is encouraging supermarkets and supply chains, national governments, multilateral institutions, NGOs and citizens to take action.
Oddbox, together its partners, has rescued over 18,000 tonnes of produce destined to go to waste on farms in the UK, the equivalent of how much around 39,250 people eat in a year. It has also saved 1,929 million litres of water and 119,868 tonnes of carbon emissions.