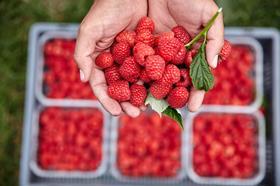 British raspberry volumes are expected to grow by almost 15 per cent this year after a recent spate of good weather heralded a strong start to the season.
The UK raspberry season is now in full swing and fruit is expected to be in plentiful supply thanks to favourable growing conditions in recent weeks.
Raspberry consumption continues to rise year on year thanks to improved consistency of supply, better availability from import sources, varietal development and rising purchase frequency. Sales were up 7.5 per cent in value and 5.7 per cent in volume in the 52 weeks to 16 May 2021.
During that period, Britsboughtmore raspberries than ever before, with value sales reaching £371 million and volume sales rising to 33,400 tonnes. That's equivalent to 2,700Londondouble decker buses.
As a combined category, berries now account for 26 per cent of total fruit sales in the UK, with a total value of£1.7billion.
In recent years, varietal development has extended the UK raspberry season, which now stretches from June until October, withleading varieties bearing fruitforup to five months.
British Summer Fruits chairman Nick Marston said: "Ongoingvarietal developmentin the industry allowsus tointroducenew varieties whichprioritise sweetness and flavourandthis has allhelped these wonderful berries become a very popular fruit in shopper's baskets."
Commenting on raspberries' health benefits, which are central to British Summer Fruits' promotion of the product, nutritionist Emma Derbyshire added:"Raspberries are a powerful provider of nutrients including vitamin C, manganese, dietary fibre and polyphenols which are thought to have potent antioxidant properties.
"There is a growing body of evidencethat certain fruits like berries, including raspberries could play a valuable role in helping to maintain mental wellbeing – including higher levels of optimism and reduced levels of psychological distress and depressive symptoms."