The new apple variety is riding high in the UK with adverts on London's double decker buses this spring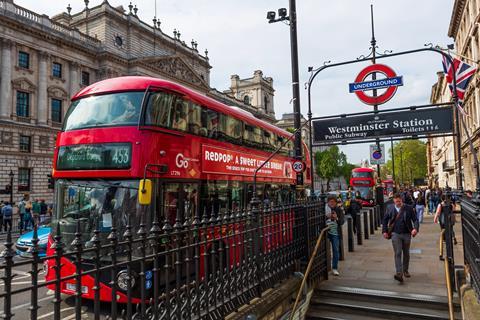 A new apple from Italian varietal club VOG is taking the UK capital by storm with a major marketing campaign on London's double deckers.
From 12 May to 4 June, RedPop will feature on 78 London buses with two banners encouraging the public to take "a sweet little break" with RedPop.
Promoted as a 'snacking apple', RedPop made its UK market debut in Waitrose stores earlier this year, and, says VOG, has proved to be an instant success, enjoying positive feedback from both customers and consumers.
"The outstanding success of RedPop makes the UK a priority market for this apple," Hannes Tauber, VOG marketing manager, said. "Its size, in line with the demands of customers, positions it as a snack. Its incredible sweetness and its high-impact brand identity have been the main reasons for its incredible popularity with the market."
As well as its striking appearance, snacking convenience and distinctive flavour – with notes of apricot, mango and elderflower, one of the key features of RedPop is its long shelf-life, he added.
"It is ideally suited for the second half of the season, from March to August, and is part of the latest generation of apples introduced by the VOG Consortium to offer the right apple for every need, for 12 months of the year," VOG said.  
"The brand identity, which underlines its pop character and innovative positioning, ensures that RedPop stands out in the fruit and vegetable department and attracts new consumers to the apple category."
RedPop is produced in South Tyrol, at the foot of the Italian Alps, by the member growers of the VOG Consortium which, with overall annual production of 550,000 tonnes of apples a year, is one of Europe's biggest apple growing co-operativ