Breeder launches eye-catching purple-stemmed variety aimed at boosting vegetable's health credentials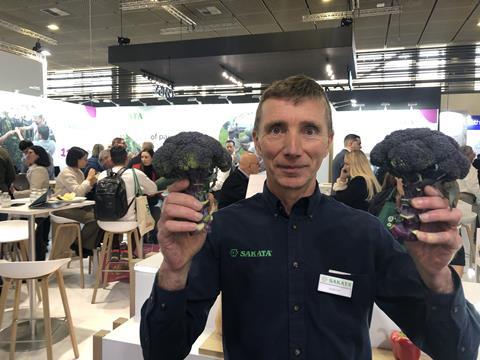 A new purple-stemmed broccoli variety has been launched by Sakata in a bid to make the vegetable even healthier and more visually appealing for consumers.
The variety, called Purple Magic, looks and tastes like regular broccoli but has purple beads and a bright purple stem – unlike most purple sprouting varieties.
Studies show that anthocyanins, which give the cultivar its vibrant purple colour, can help to: lower blood pressure, reduce risk of heart disease, prevent neurological diseases, and slow or stop cancer growth.
The broccoli is suitable for production in cooler temperatures and can be grown in the UK autumn and Spanish winter, with a total window of September to January. The first season of commercial trials is currently underway in growing areas across Europe.
Growers are recommended to harvest the variety when it reaches a head weight of around 400g.
The variety is expected to be a niche product for the foodservice, catering and higher-end retail sectors.
Sakata's director of marketing Andrew Dominy emphasised that Purple Magic was unlikely to become a mainstream variety but would diversity the range of broccoli available to consumers and open up a new segment in the category.
He expects the variety to appeal to families with children thanks to its eye-catching purple colour.