Babyleaf supplier JW European rewarded for patented misting technology to boost the shelf life of bagged salads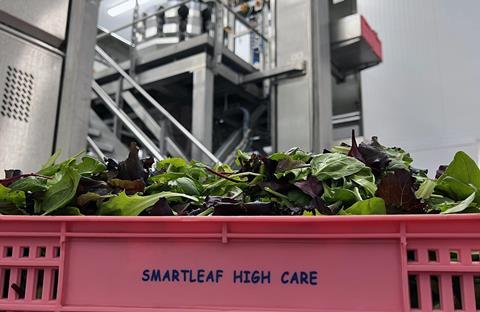 Babyleaf supplier JW European has won a Queen's Award for Enterprise for its Smartleaf misting technology to extend the shelf life of bagged salads.
The Chichester-based producer was recognised for its excellence in innovation along with 225 other organisations nationally.
Smartleaf is a sanitising process for the ready-to-eat bagged salad sector which uses natural ingredients and reduces microbial loading on the leaves, thereby improving freshness and extending products' shelf life.
Given the short shelf life and high wastage generated by bagged salads, the technology has been welcomed as an important step to reducing food waste, which accounts for around 10 per cent of global greenhouse gases.
Dr Scott Phillips, joint MD of JW European and the inventor of the Smartleaf process, said: "It has taken us well over a decade and required so much determination from our teams and our partners but we've achieved something novel and exciting.
"We are proud of the Smartleaf bags produced through our on-farm model and delighted for this to be recognised in this year's Queen's Awards."
Unlike traditional methods, Smartleaf draws inspiration from morning dew and cleans salad leaves using a cleansing fog which gently hydrates each leaf.
The mist produced by JW European's patented machines is electrically charged, transforming it into a natural immune system that delicately cleans the leaves and removes bacteria.
Baby leaves like spinach and rocket are more than 90 per cent water, and by creating water droplets smaller than the holes in the leaves themselves, the machines keep the product gently hydrated and extend the shelf life.
Now in its 56th year, the Queen's Awards for Enterprise allow winning businesses to use the esteemed Queen's Awards Emblem for the following five years.
Applications for Queen's Awards for Enterprise 2023 open on 1 May 2022. Click here or more informat