As supplies stabilise, UK salad distributors are anticipating strong sales during the warmer months ahead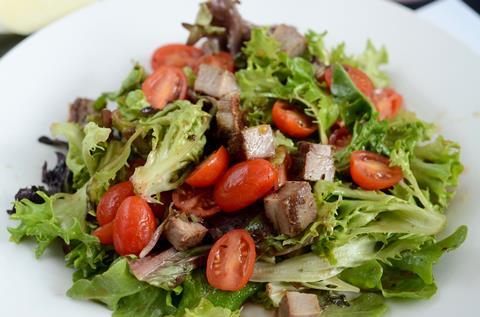 Leading UK salad suppliers are gearing up for a huge uptick in leafy and prepared salad sales from May onwards, with the King's coronation a potential high spot for demand.
After a turbulent 12 months, which have seen adverse weather blight domestic and European salad production and contribute to supermarket shortages, UK distributors are looking forward to better times ahead as supplies stabilise.
Florette UK's commercial and marketing director Mike Purdy has identified "the BBQ occasion" as a big opportunity for the category as the weather improves, thanks to the rising trend of eating and entertaining more at home.
"As we step into summer, lighter eating with a fresh accompaniment becomes a staple for consumers," he tells FPJ. "With our long-established reputation for fresh and convenient bagged salads, Florette is well positioned to meet shopper demand for light and fresh alfresco dining options. The brand has sold 33m packs in the last year and continues to be the No.1 salad brand in the UK with a loyal shopper base of 1 in 5 households buying its products."
Another big name in UK salads, Vitacress, says it is focused on targeting the coronation of King Charles on 6 May. "If the sun is shining, we foresee a huge opportunity for prepared salad sales," says Vitacress CEO Chris Jinks.
Jinks and Purdy both expect to have enough to supply to meet any surge in demand, and say their respective sourcing strategies meant they were able to provide a consistent supply to retailers over the recent difficult winter months.
"Our raw materials come from our own farms and grower groups in the UK, Spain and, so we were able to plan and time our harvest to maximise availability through this difficult period," says Purdy. "As a result of these endeavours, our Florette brand is back in full supply across our whole customer base."
Vitacress, meanwhile, has its own farming operations in the UK, Portugal and Spain. "Whilst the full UK season may not be in full supply until the end of May, due to recent wet weather conditions, Vitacress spring supply will not be affected," says Jinks.
High energy costs continue to be a challenge for many, he adds, but he says Vitacress has been grateful for the support it has received from retailers. "We will continue to work collaboratively with our grower network to develop resilience within our supply chain, whilst ensuring we have the right sourcing strategy to source from multiple locations at any one time," says Jinks.
In related news, the UK's leading watercress grower-supplier The Watercress Company is gearing up for the annual watercress festival in Hampshire, on 21 May.
Now in its 19th year, the event celebrates the official start of the UK watercress season and is held in the 'capital of watercress', the Hampshire market town of Alresford, and typically attracts over 15,000 people.
Celebrity chef Mark Hix will be on hand to demonstrate how to cook with watercress, as well as TV chef Lesley Walters and 2022 MasterChef The Professionals finalist, Charlie Jeffreys.
Spanish watercress supplied by The Watercress Company helped fill a UK salad supply gap throughout February – a time when supermarkets were having to ration salad vegetables due to weather-related supply shortages in Spain.
Thanks to the Spanish growers' unique production methods, yields were unaffected by a winter cold-snap. UK packers were therefore able to use watercress to supplement less available leaf varieties in salad packs, the company said.
"Sales of watercress are strong, and we have found the support we gave in our sector during the shortage was well received and are now looking forward to an early transfer over to the UK season," Tom Amery, managing direct of The Watercress Company told FPJ.