The sunniest June for 66 years has delivered great tasting new-season British apples, says UK grower body BAPL as the 2023/24 deal gets under way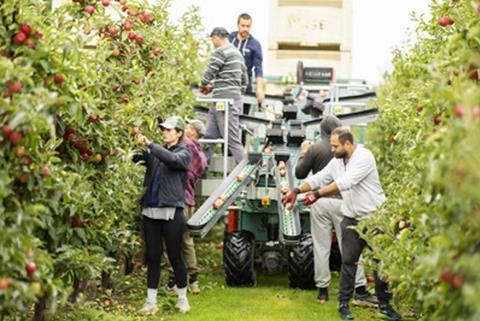 Monday 2 October marks the official start of the 2023/24 British apple season, and UK growers say that while it may not be a bumper crop, the fruit's flavour will be second to none.
Harvesting is now in full swing, with an estimated 22 million apples being hand-picked every day during October, according to grower group British Apple & Pear Limited (BAPL), which says new season fruit is already on supermarket shelves.
The sunniest June since 1957 (according to the Met Office) ensured young apples got what they needed to build up their natural sugars, which sets the stage for flavoursome fruit, explains BAPL executive chair Ali Capper.
"Apples do need sunshine hours to develop their full potential in terms of taste and flavour," she says. "So, in spite of the pretty rubbish July we've had, we are pretty confident the great weather in June will have secured a great tasting crop."
Yet, in terms of British volumes, 2023 will not match last year's bumper yields. "It's a pretty average year for two reasons," says Capper. "The extreme heat and drought of last year will have stressed the trees in some parts of the country. When that happens, you end up with an inconsistent crop the following year.
"Added to that, we had a very cold spring this year and that meant that pollination wasn't as good as it could have been. Thank goodness for June! The crop we are going have will have an excellent flavour profile."
This year's weather challenges have come on top of continued cost pressures for UK producers. "Growing and storage costs are still inflating year-on-year," says Capper. "With a smaller predicted crop in 2023, this means the cost of production per kilo will increase this year."
Earlier this year, BAPL released results of analysis, conducted by farm business consultants Andersons, that put the median cost of producing a kilo of British Gala apples at £1.26.
"That is the cost the grower needs back to them in order to make a profit and have a sustainable investible business," says Capper. "I don't think we are anywhere close to that at the moment. It's hard to say how far away from that we are, as we are not allowed to collect that data, but I know enough from growers and packers to know that we are long way off that."
Unfortunately, growers are yet to see cost pressures ease, Capper reveals. "Energy prices are still much higher than they were 18 months ago, and growers are locked into energy contracts. Apple and pear businesses are not getting the support on energy prices from government that many other business sectors are receiving.
"The cost pressures on growers are already causing contraction in the top fruit industry. Our members are reporting that Cox and Bramley orchards in particular are being grubbed. This is very concerning. We need supermarkets to pay a fair return to our growers to ensure the future sustainability of the industry."
Despite the challenges, Capper and her BAPL colleagues are determined to find the upside in what is a very tough year. "We will have great tasting fruit to offer which is fantastic. And while it is fairly average in terms of volume, we could not be clearer with the market that we need to be in profit. And actually, if you have a fairly average crop it inevitably puts up the cost per kilo. That doesn't mean the shopper has to pay more – the shopper is already paying more, it's just not coming back to the growers."
In an effort to maximise sales, BAPL has challenged British retailers to ensure that stores up and down the land promote British apples during October, which BAPL has designated British Apple Month. And members are working closely with supermarkets to create "in-store theatre" to raise the profile of the fruit, while at the same time investing more than last year in social media advertising to raise awareness of apples as a "homegrown superfood", says Capper.
"The health benefits of apples are sometimes overlooked. But recent comments by diet expert and TV journalist Michael Mosely – advocating an apple a day – and new scientific research about the benefits of quercetin have elevated the humble fruit to something of a superfood," she says. "Even Hollywood is getting in on the apple revival – [US actress] Jennifer Garner eats an apple a day. It's her favourite snack.
"Apples are rich in polyphenols that act as antioxidants. They are great for gut health and can also reduce the risk of cardiovascular disease. Eating apples has been shown to also reduce total cholesterol, blood pressure and inflammation.
"We know the British public is hugely supportive of the British apple industry. This year, there are more reasons than ever to munch on a British apple a day. Not just a treat for your taste buds but your gut, heart, brain and body too!"