Welsh farming union responds with concern to Senedd statement on tree cover in latest Sustainable Farming Scheme plans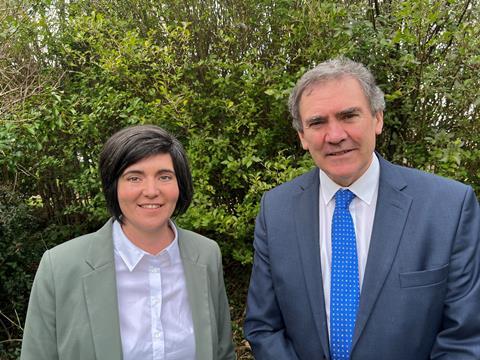 Welsh farming union NFU Cymru has said it is "extremely concerned and disappointed" that the Welsh Government has doubled down on its tree planting target in its planned Sustainable Farming Scheme (SFS) – set to replace the Basic Payment Scheme (BPS) and Glastir from 2025 onwards.
Responding to the Minister for Rural Affairs' statement to the Senedd yesterday (11 July) on outline proposals for the planned SFS, NFU Cymru President Aled Jones said that while the farming union remains supportive of Welsh Government's overarching framework for the SFS arranged around universal, optional and collaborative tiers, it is concerned that the stipulation to plant a certain percentage of trees on farming land will deter participation in the scheme.
"NFU Cymru is extremely concerned and disappointed that Welsh Government appears to have doubled down on its 10 per cent tree cover target – on areas Welsh Government considers suitable for tree planting – within the universal tier of the proposed scheme," Jones said in a statement.
"In our response to the SFS outline proposals, NFU Cymru highlighted the broad range of issues associated with the 10 per cent tree cover and 10 per cent habitat targets. We remain clear the challenges around these targets present a very real barrier to scheme participation. Farmers will be prepared to plant hedges, shelterbelts, streamside corridors and field corners on appropriate areas of their farm, but will not plant trees on their productive land.
"It will also be vital that the final consultation provides more detail on what exactly farmers will need to do and crucially what they can expect to be paid," he added.
Jones continued by saying that the scale of change faced by farming businesses in Wales is unprecedented, and that NFU Cymru is committed to working with Welsh Government to make sure that the new system is fit for purpose.
"We remain clear, that future support schemes have to deliver against the multiple challenges that we will face in the future," he said. "These challenges include meeting our environmental and climate change obligations, as well as driving productivity and efficiency in order to meet our responsibilities in relation to food production – both domestically and globally.
"With family farms forming the backbone of our rural and wider communities, we must have a scheme which delivers for our economy, landscape, language and culture, whilst also underpinning the top-quality food production, which makes our farmers the cornerstone of a food supply chain which sustains a multi-billion-pound food and drink industry and hundreds of thousands of jobs."