Ultra-low pricing hasn't translated into higher 2022-23 UK carrot sales, despite cash-strapped consumers seeking bargains
Persistently low carrot prices have not translated into greater sales over the last 12 months. In fact, sales volumes for the 12 months to 14 May 2023, according to Kantar lastest figures, fell 2.3 per cent compared to the prior year – a further drop from the -7.7 per cent decline in 2022.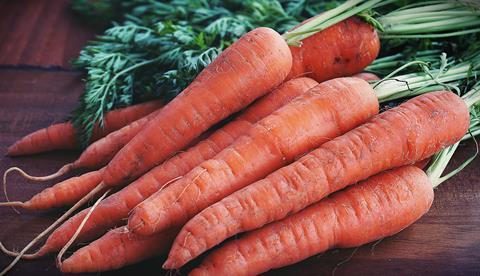 Producer Martin Evans, managing director of grower group FreshGro, believes carrots are potentially overlooked by UK consumers because they are "too cheap", and that the British root veg sector – and retail – are missing a valuable opportunity to promote these healthy, low-cost products to cash-strapped, bargain-hunting shoppers.
"Cost of production has been up by over 20 per cent, and on the whole low carrot pricing should have meant more sales, but this has not transpired at all," says Evans. "Carrots at 50p per kg are too cheap and are almost overlooked. In most European countries, carrots retail at e1.50-2 per per kg.
"General UK food consumption patterns are towards ready-meals, snacking and convenience. Yet scratch-cooking of whole foods is by far a cheaper option, but is still not a choice selected by most consumers," he continues. "Our messaging is totally absent as an industry. We are not engaging with our consumers on cooking using carrots. We need consumer engagement more than ever to teach, create and encourage carrot consumption."
Meanwhile, weather issues have added to carrot grower difficulties, at home and abroad. Last summer's drought, followed by a wet and frosty autumn led to tight supplies Europe-wide. And this year's wet March then dry April-May has made crop establishment tricky, Evans explains.
"If we have a hot dry summer, this will create low yields. If we have a wet summer, it will be the same outcome. If the weather is mixed, crops will catch up. Watch this space."