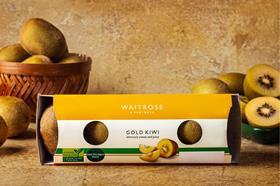 Waitrose is trialling linerless cartonboard packaging for its Gold Kiwis, saying it can save 1.2 tonnes of plastic and ensure 100 per cent kerbside recyclability.
The Pro-Produce Pack uses linerless labelling technology from Suffolk-based packaging supplier Ravenwood Packaging to apply a paper lid to a cartonboard nested tray.

The pack is composed completely of renewably sourced board and paper, and both the lid and tray are fully recyclable in line with the On-Pack Recycling Label, but the fruit is not fully visible to the consumer.
Shoppers can easily identify the pack as recyclable and recycle it at the kerbside.
"The trial is designed to help us understand the packaging function within our supply chain as well as the customer appetite for 100 per cent kerbside recyclable card packaging where the fruit is not fully visible at the time of purchase," said Lisa Meade of Waitrose.
"The data will give us a clear understanding of the supply chain adaptations required if rolling out more widely, as well as insight on how receptive our customers are to this type of packaging solution."
The packaging is manufactured by ProPrint Group, which has collaborated with Waitrose and fruit supplier Primafruit to carry out the eight-week trial. If successful, the Pro-Produce pack could be rolled out further within the Waitrose fruit range.
Thanks to the launch, Waitrose Gold Kiwis can be packed at speeds of 45ppm, and the packing process offers inline date coding.
The new linerless format is available using a range of tray sizes, and customers can tailor lids using shapes and apertures to suit the product.
The Ravenwood Packaging applicator can also connect to weigh price labeller for catch weight, fixed weight or average weight labelling.