Upmarket UK retailer announces earliest ever British asparagus deal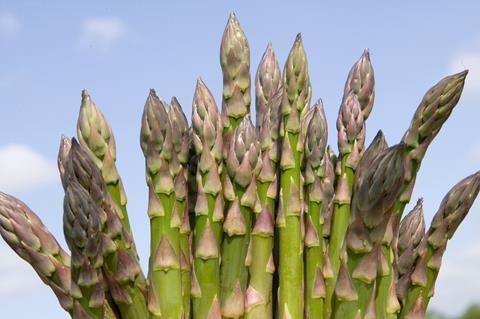 UK retailer Waitrose is selling new season British asparagus sooner than expected this year as its suppliers welcome an early season, reports Retail Times.
British spears began rolling out across Waitrose stores last Tuesday (21 February) – nine weeks before the typical season start on 23 April, the publication said.
"We know how much our customers enjoy home-grown British asparagus which is why we're delighted that this year's crop will be available earlier than usual, making our 2023 season the earliest to date," Waitrose vegetable buyer, Sam Witherington told Retail Times.
"The bumper crop is grown in recycled strawberry coir which heats up quicker than normal soil and gives our asparagus a uniquely sweet flavour."
New Forest Fruit asparagus grower Sandy Booth added: "We've been developing our asparagus plantation over the past five years and have applied our experience of growing strawberries to growing the perfect asparagus."
Booth said that by using recycled composted strawberry coir, New Forest Fruit is able "to reuse around 4.5 million litres of leftover matter and use microbiology to create the richest possible compost for our asparagus."
"We are not only producing the most delicious and earliest British asparagus on the market for Waitrose customers exclusively, we're committed to working hand in hand with our natural surroundings."