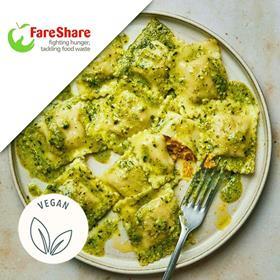 This Halloween, surplus veg supplier Waste Knot has teamed up with nationwide fresh pasta delivery service Pasta Evangelists for the launch of its first-ever range of "wonky" pasta dishes.
The special menu features offerings made with pumpkin flesh that would otherwise go to waste. It has been created in aid of leading food waste charity FareShare, with £1 from each "wonky" dish sold being donated to the redistributor.
Over h​alf the UK's 24 million Halloween pumpkins are destined to become food waste this year​, according to a survey of 3,000 UK consumers commissioned by food waste charity ​Hubbub.
And Pasta Evangelists said they want to "use their expertise in Italian pasta culture to educate British consumers about the gastronomic properties of pumpkins". The vegetable's sweet flesh is a specialty of pasta ripiena (filled pasta) in the regions surrounding the river Po in the north of Italy.
Available to order from the Pasta Evangelists website from Friday 16 October to Friday 6 November, the limited-edition "wonky" range is designed to inspire customers to transform their own Halloween pumpkins into pasta dishes this year instead of sending them to landfill.
The special menu includes a Pumpkin & Black Truffle Triangoli and a vegan Pumpkin & Sage Ravioli with Wild Rocket Pesto made with surplus pumpkins supplied by Waste Knot.
New Covent Garden catering supplier Nature's Choice delivered the pumpkins to Pasta Evangelists free of charge.
FareShare's commercial director Alyson Walsh said: "We love this smart partnership with Pasta Evangelists and Waste Knot. It brings together the best of maximising surplus pumpkins so that they aren't wasted and also helps fund meals out to people in need this winter through our network of local charities."
Waste Knot​ came about as a way of getting surplus veg out of farmers' fields and into chefs' kitchens. Itworks to reduce food waste by linking growers and logistics providers with foodservice businesses that are prepared to pay for wonky or surplus veg.
Founded by fresh produce expert Jess Latchford, the company's mission is to make sure the farmer is paid and receives a commercial value for produce thatordinarily may have been used for animal feed or anaerobic digestion.