Avocado supplier's industry-first partnership with Dr. Craft will open up higher-value alternative to anaerobic digestion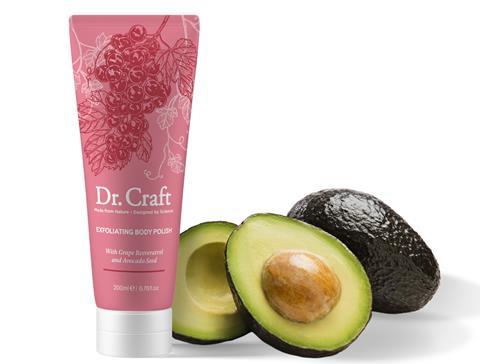 For the first time ground avocado stones are being used as an exfoliant in beauty products to replace the now banned and environmentally harmful plastic microbeads previously used.
After three years of research, development and product testing, the UK arm of avocado supplier Westfalia Fruit is supplying ground avocado stones to premium beauty brand Dr. Craft for use in some of their cosmetics.
A new range of Dr. Craft body scrubs using avocado stones as the exfoliant will launch in August 2022, with additional products currently in development.
Currently, avocado waste components including skins and stones are used in low-value anaerobic digestion but their inclusion in beauty and cosmetics will open up a new, higher-value alternative for Westfalia Fruit.
Johnathan Sutton, group safety and environmental executive at Westfalia Fruit, has been working closely with Dr. Craft and its academic arm Keracol to ensure the use of avocado stones meet all the stringent safety requirements demanded of an ingredient in beauty products.
"The project has involved several UK universities, including Leeds and Kingston, to verify and validate the use of avocado seeds," Sutton said.
"The extraction process is very complex, but with perseverance a perfect particle size and process was discovered to work within a cosmetic body scrub as the replacement for microbeads."
"It's been an exciting to journey to be on," added Graham Young, global category management executive at Westfalia Fruit. "These are not overnight developments, however through extensive research, experimentation, and demonstration and through the correlation and application of scientific knowledge we are proving that much is possible coupled with partnering with likeminded organisations."
Dr. Craft's previous research has explored the possibility of using grape waste and citrus peels in a number of different products.
The brand is available online and in premium UK and European retailers.