Enrique Soler and Salvador Cervera of Fedemco tell Fred Searle why they are confident wooden packaging will play an important role at British and European supermarkets as retailers' push for sustainability continues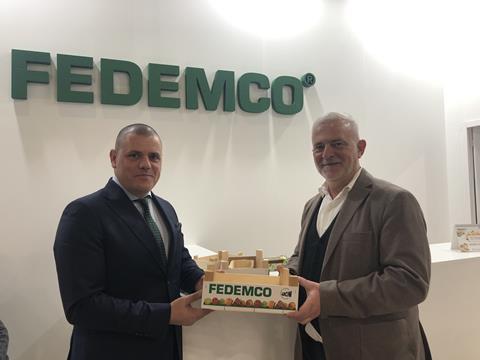 Since 1991, The Spanish Federation of Wooden Packaging and its Components (Fedemco) has represented Spanish companies that manufacture wooden containers for fresh produce, as well as pallets, boxes and cases for agri-food, industrial packaging, wooden packaging components, plywood, machinery and other supplies. How would you say demand for wooden fruit and vegetable packaging is evolving, and what impact are new EU regulations on plastic packaging likely to have on the sector?
We see a lot of interest in recyclable packaging because consumers are demanding sustainable solutions and European regulations are forcing the industry to move in that direction.
The European Commission has set a target to reduce packaging waste by 15 per cent per capita per member state by 2040, compared to 2018 levels. And the EC's Packaging and Packaging Waste Directive (PPDW) proposes a ban on certain types of packaging such as single-use plastic packaging for less than 1.5 kg of fresh fruit. This includes nets, bags, trays, and containers.
This new legislation, which has already been announced in Spain and France, has boosted interest in wooden packaging from suppliers and retailers. It is a recyclable and reusable alternative to plastic that looks natural, protects fresh produce effectively, and is generally very sustainable. Fedemco has always been sustainable, and in many respects, we aren't doing anything new, but we are now seeing greater interest in our products.
You don't see much fresh produce displayed in wooden boxes at UK retailers, whereas it is quite common in Spain, the Netherlands and other European countries. Why do you think that is?
The consumer perception is that wooden boxes are used to package premium produce and that you are more likely to find them at premium grocery stores. Now we're trying to change that perception and communicate to retailers that there's added value in the packaging itself – in terms of its recyclability, sustainability, and suitability for storing fresh produce. It's not just about how it looks to the consumer.
Wood is a 100 per cent biodegradable and recyclable raw material, which has a negative carbon footprint and a minimal water footprint – characteristics that make it the most sustainable packaging. All the trees used for the wooden boxes produced by Fedemco's members are cultivated from sustainable poplar and pine forests. And by law, we have to plant more trees than we cut down – for every tree we cut, we plant another.
Within packaging, wood is a smaller sector than either plastic or cardboard, and maybe that's why people don't have a lot of information about the benefits of wooden boxes and how they can be used. So, we set up a PR campaign with B2B media, consumer media and social media. Sustainability is really our main message.
Retailers in Spain, Germany, the Netherlands, Italy and other countries use wooden boxes much more than in Britain. And as it stands, wooden packaging isn't widely used for fresh produce in the UK. But I think that will start to change because it fits well with supermarkets' sustainability agenda.
What are the benefits of wooden packaging compared to cardboard packaging?
In Spain wooden packaging is widely used for fresh produce. For example, we sell millions and millions of 1kg wooden strawberry punnets, and these are a very popular packaging solution because the hygroscopic properties of wood are better than in cardboard.
This means that wooden crates have the capacity to absorb the fruit's moisture and, in turn, expel the same amount of absorbed moisture. When fruit is freshly harvested, it might take on moisture from the morning dew, and some fruits, such as apples, are cleaned with water at the packhouse and might be slightly wet when packed. However when the fruit comes into contact with the wood the moisture is eliminated.
This does not happen with other packaging materials. Plastic does not absorb moisture, and cardboard absorbs moisture but retains it, which can damage the box during long-distance transport. This, in turn, harms the quality of the fruit inside.
What challenges do you foresee when it comes to collecting, recycling and reusing wooden packaging?
Managing the collection of used wooden packaging from supermarkets is a challenge because there is only a relatively small volume of it being used. There is plenty of cardboard or plastic waste but wood only accounts for a very small percentage of a supermarket's total packaging waste. Because of this, most European countries haven't developed adequate systems for collecting, recycling and reusing wooden packaging from retailers. But now supermarkets are required to act on this by EU law.
What scope is there to introduce new formats of wooden packaging?
I think we will see more wooden boxes being used at European supermarkets in the next few years because of the EU's ban on plastic packaging for fruit and vegetables weighing less than 1.5kg. Retailers are asking for alternative packaging that is more sustainable and less harmful to the environment. In line with this, our wooden packaging comes from sustainable plantations, and can be recycled many times before the end of its life.
There are plenty of new wooden formats, for example 300g or 1kg packs of strawberries, cherry tomatoes, cranberries, blueberries, mandarins, and so on. In countries such as Spain, Poland, Germany, France, Belgium and Italy, we are seeing supermarkets switch to smaller pack sizes so that the fruit is less likely to get damaged.
I think small formats are the future of packaging, especially in strawberries, blueberries, cranberries, coriander, or any fruit or vegetable that does not have a natural rind to protect it from handling damage.