As production costs soar, Fairtrade announces that it is raising banana prices in support of farmers
Fairtrade has announced new minimum prices for bananas in an effort to cushion banana farmers from the impact of skyrocketing production and living costs.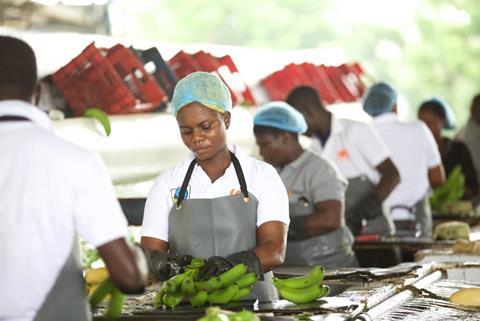 The new minimum prices represent an average 4.5 per cent increase at farm level, plus an average extra 15 per cent increase for producers who export their bananas directly, to cover higher export and packing costs.
According to Fairtrade International, the increases are the highest in several years.
The announcement comes as economies worldwide grapple with high inflation, a cost of living crisis, and amid spiralling production and export costs for producers.
Producers already faced soaring costs in 2021, but they have continued to increase exponentially in 2022, Fairtrade pointed out.
"We recognise many consumers, workers, and farmers are suffering from the current cost of living crisis," said Silvia Campos. "Fairtrade's senior advisor for bananas but the burden of carrying the increased costs cannot be shouldered by farmers alone."
Data collected by Fairtrade from numerous Fairtrade-certified banana farms and verified by technical experts has revealed that prices have increased since 2021, with fertilisers up by 70 per cent, fuel up by 39 per cent, pallets and plastic packaging up by more than 20 per cent.
Costs for the four other key inputs and services collected – labour, carton boxes, inland freight, and port charges – have all increased too.
The new minimum price will come into effect on 1 January 2023, with contracts for 2023 currently being negotiated between buyers and producers.
For the first time, Fairtrade is also publishing costs for eight key inputs and services needed for banana production, for each producing country.
Fairtrade said that this provided transparency on the costs behind the new minimum prices and would help producers and traders to better negotiate their contracts.
However, according to Campos, setting these prices had been "a difficult balancing act" as many producer organisations were concerned that asking for higher prices would result in the loss of Fairtrade sales altogether.
"We urge retailers, traders to stand by Fairtrade famers and workers, and continue to purchase Fairtrade bananas," she continued. "And we call on them to commit to shared responsibility and sustainable prices, to stop this continued race to the bottom and to ensure banana farms are able to stay in business."
Fairtrade is the only certification scheme with a minimum price – a crucial safety net for producers. It reviews its minimum prices for bananas on an annual basis, in consultation with producers and traders.