Partnership aims to unlock the potential of biotechnology to improve post-harvest quality and reduce food waste
AgroFresh has joined forces with the world's leading industrial biotech company, Novozymes, in a research and commercialisation partnership to develop biological solutions that can improve post-harvest food quality and minimise waste by fighting fungal pathogens.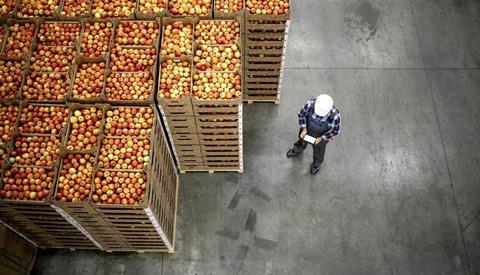 The companies hope that resulting products, which will be developed for post-harvest applications, will benefit growers, retailers, and consumers, as well as the environment.
"This is a very exciting venture into a ground-breaking area for Novozymes – with the intention to satisfy an increasing consumer demand for fruits and vegetables with less food waste and less impact to the environment," said Thomas Stenfeldt Batchelor, Novozymes' vice president, agriculture marketing & strategy.
"With great synergies, that include Novozymes' expertise in pioneering bio-innovation and AgroFresh's R&D capabilities and application knowledge, we will explore the development of viable and sustainable post-harvest solutions to also alleviate significant supply chain issues."
Duncan Aust, chief technology officer at AgroFresh, commented:"AgroFresh and Novozymes share very similar missions around sustainability and the introduction of differentiated technologies to address unmet needs across the food chain.
"We are excited to partner with Novozymes to pioneer the use of biological solutions in the post-harvest sector to reduce food loss and waste and help improve the quality of our food system overall."
Around one-third of food produced is lost or wasted before it even gets to the consumer, with fruits and vegetables accounting for over half of this amount. As soon as crops are harvested and removed from their growing environment, they begin to lose quality and eventually deteriorate.
Fresh crops, such as fruit, vegetables, and flowers, are particularly vulnerable to microbial attack and subsequent losses during this post-harvest stage, which includes cooling, cleaning, sorting, and packing of the crop.
Novozymes and AgroFresh said they expect the development of new bioproducts to be accelerated by the combination of advanced biotechnologies from Novozymes and AgroFresh's deep scientific expertise in post-harvest solutions, global commercial footprint, and unparalleled portfolio of integrated solutions to help maintain freshness and quality of fruit, vegetables, and flowers.
Potential to meet growing challenges
With increasing demands on the global agricultural industry from consumer, economic, and environmental perspectives, the partnership has the potential to create new sustainable products.
"The partnership with AgroFresh brings us the opportunity to expand our BioAg offerings into the post-harvest sector, just at a time when fruit and vegetable producers face some of their toughest challenges ever," said Stenfeldt.
Aust added: "We are excited to combine the unique industry and technology insights and scientific expertise provided by both organisations in the development of novel, sustainable solutions for the control of fungal decay in post-harvest fruits, vegetables, and flowers, with the shared goal of minimising food loss, improving quality, and increasing the overall sustainable footprint of the industries that we collectively serve."