The company is offering proprietary varieties Aketzali and Amelali, as well as the new Erandy variety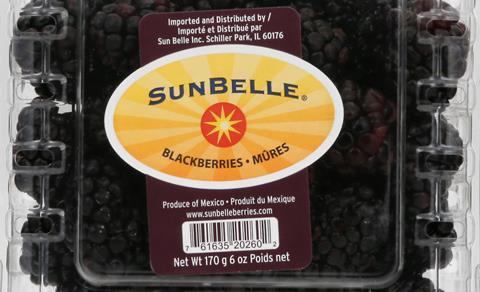 In the US, Sun Belle has said that optimal temperatures and growing conditions are resulting in peak production of its blackberries and Green Belle organic blackberries from central Mexico through late May.
Premium proprietary varieties Aketzali and Amelali, as well as the new Erandy variety, are providing consumers with "large, shiny, flavourfully sweet blackberries", the group said.
"The sunlight and beautiful spring weather on our farms are producing abundant volumes of extra sweet berries, sure to delight consumers and move retail sales," said Sun Belle president and founder Janice Honigberg.
"Packed on the farm, our blackberries then go to one of our five distribution centres where they are carefully inspected to ensure the highest quality product for our retail partners and their customers."
Sun Belle markets and distributes blackberries year-round. The company imports the Aketzali, Amelali and Erandy varieties from Mexico from August through mid-June, and markets University of Arkansas varieties from Georgia, North Carolina, New Jersey and Arkansas throughout the summer.
"From the eyes to the mouth, these berries provide an excellent eating experience," said Sun Belle director of marketing and communications Jennifer Sparks.
Sun Belle and Green Belle are leading brands of premium quality conventional and organic blueberries, raspberries, blackberries, strawberries, golden berries, cranberries, pomegranate arils and red currants.
Sun Belle operates five distribution centres nationally, including Schiller Park, Illinois; Jessup, Maryland; Oxnard, California; Miami, Florida; and Laredo, Texas.