ProdOz International hosts Levity Crop Science's Dr David Marks to see how Australian producers are harnessing crop-enhancement products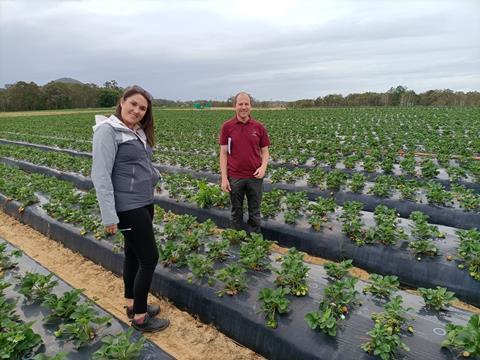 Australian food producers are increasingly embracing advanced crop-enhancement products such as high-tech fertilisers as they strive to maintain profits and reduce inputs in challenging times, according to leading plant physiologist Dr David Marks.
The Levity Crop Science co-managing director and the inventor of more than 30 patented agricultural products, Marks has a recent trip imparting his knowledge, specifically on nitrogen and calcium use, to Australian and New Zealand fresh produce growers.
Marks, co-managing director and scientist Anna Weston and crop science technologist Zenon Kynigos of Levity's Australian partner ProdOz International visited multiple commercial operations in Queensland, Western Australia, Tasmania and New Zealand where tree crops, berries, tropical fruit, nuts, root vegetables and brassicas are being produced.
"Some growers who have been trialling our products for a while have achieved great results and are now implementing our program across their entire operation. Other growers are yet to see the results of their trials and others were receptive to learning more," Marks said.
Marks said while all crops could benefit from more effective nitrogen-use practices, he could see enormous potential for improving outcomes particularly in Australian onion and pineapple production.
"Both these crops have poor roots so aren't able to harvest nutrients from the soil as well as other plants. Also they are 'lion feeders' which feed on nitrogen at specific times in their growth cycle," he added.
"We already know effective nitrogen use can make a difference in root vegetable, banana and broadacre crops such as sugar cane and cotton. We use Levity on crops across the board. Each grower will get their own results due to the varied factors on each farm. We encourage our clients to trial and get their own data on this.
"Our key focus is to share knowledge about effective nitrogen use and help farmers achieve better outcomes in marketable yield and quality. It's about helping farmers understand the interaction between plants and how they take up nutrients in the environment they're in."