Government implements state of emergency as fruit industry prepares to assess the damage from "devastating" storm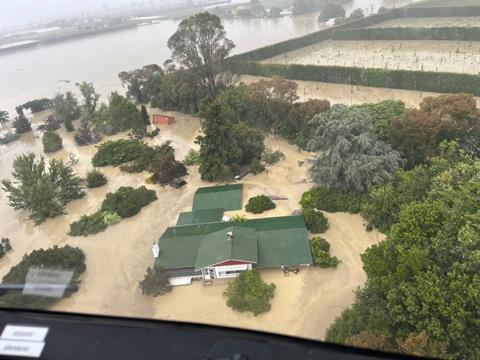 New Zealand has been devastated by Cyclone Gabrielle, which has left a number of people dead and seen the country's government implement a state of emergency.
Cyclone Gabrielle made landfall on Saturday 12 February bringing once-in-a-generation conditions that have caused large-scale flooding and storm damage.
The North Island has been the worst hit, particularly the areas of Gisborne/Tairāwhiti, Napier and Hawke's Bay, Coromandel, and Northland, parts of which are home to key growing regions for New Zealand's fresh produce industry.
While initial recovery efforts are still underway Nadine Tunley, chief executive of peak industry body Horticulture New Zealand said the unprecedented level of damage was already clear.
"Our thoughts are with all the people and growers across New Zealand who have been affected by the latest atrocious weather event, Cyclone Gabrielle. From what I have seen and heard, the impact has been devastating and it will take years for areas of Hawkes Bay and Gisborne to recover," said Tunley.
"It is however too soon to talk about recovery when people have lost their lives or are missing. I know of growers who immediately dropped everything and used resources like helicopters and tractors to rescue people. Some of these same growers have also lost everything – their crops, machinery, houses and cars. Our thoughts are with all the growers, RSE workers, families and communities that have been affected by Cyclone Gabrielle, which has proved to be more damaging than Cyclone Bola in 1988."
The New Zealand government has already announced an initial recovery mobilisation fund, providing NZ$4m (US$2.5m) to help farmers, growers, whenua Māori owners and rural communities mobilise and co-ordinate recovery efforts from Cyclone Gabrielle.
"The breadth of this storm's impact is unprecedented with milk collection disrupted, orchards inundated and livestock losses across much of the North Island. This is a dynamic situation and we are responding accordingly to help the rural sector to respond with this initial funding," said agriculture minister Damien O'Connor.
"I expect we will provide more support once a full and thorough assessment of the damage caused by Cyclone Gabrielle across the North Island is complete. That destruction includes flooded farms and orchards, damage to vital roading and electricity infrastructure, and isolated communities.
"Conditions continue to make it difficult to assess the full extent of crop damage, livestock losses, and disruption."