Italy's largest apple consortium, Vog, has embarked on its 2018/19 marketing campaign with new appointments in three key commercial positions.
Marketing manager Hannes Tauber, sales manager Klaus Hölzl and club apple manager Simone Pilati have all joined the group in recent months, bolstering an operation that nowadays sells a broad range of apples to markets around the world.
The most eye-catching of the three appointments from an international fresh produce business perspective is arguably that of Pilati (pictured left), who is known to most people connected with the Italian apple business as the former general manager of Trento-based apple supplier Consorzio La Trentina.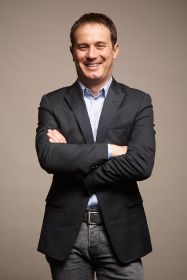 Having left La Trentina in 2017 following its agreement to develop closer ties with another major Italian apple marketer, Melinda, Pilati is now working with Hölzl and has specific responsibility for managing and expanding Vog's club apple business, an area in which he will develop sales of licensed, branded varieties including Envy, Evelina, Jazz, Kanzi, Kissabel, Modì, Natyra, Pink Lady, Rubens and Yello.
Hölzl, for his part, has taken charge of the 22-person sales team at Vog's Terlan headquarters. He will be responsible for coordinating and boosting sales in key markets and to the central sales operation's customers.
Hailing from nearby Marling (Marlengo), Hölzl's first professional experience was as a quality auditor at organic apple company Bio Meran. From 2008, he worked for South Tyrolean fruit ingredients supplier Iprona as area sales manager, overseeing relations with various international export markets and select customers in Europe.
Then, in 2017, he took on the role of business development manager at organic fruit ingredients specialist Sublima, where he helped create an independent sales structure for food industry raw materials.
Hannes Tauber's connections with the region's fruit business are also deeply rooted. Most recently he was sales promotion manager for South Tyrolean food products at EOS, now IDM Alto Adige, having previously spent six years as its head of the sales support trade department.
Prior to that, he spent a year-and-a-half at the European Commission's Consumers, Health, Agriculture and Food Executive Agency (Chafea) in Luxembourg, running food marketing plans that focused particular attention on markets outside Europe.
VOG director Gerhard Dichgans said he wished the consortium's latest arrivals "all the best" in their new roles.