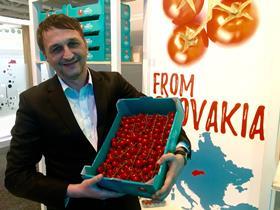 Slovakian company GreenCoop has high hopes for its new brand concept Happy Tomato from Rye Island, which it showed off during its debut appearance at Fruit Logistica.
The cooperative, which started out as an importer primarily of citrus, is developing the brand for tomatoes grown sustainably in Žitný ostrov, Europe's largest river island, in the south of the country.
Supplying customers mainly in Slovakia, Hungary and the Czech Republic, the group is planning to expand production into Hungary in the near future.
Rye Island is a translation of Žitný ostrov, Europe's largest river island, which sits between the Danube, its tributary Little Danube and another river, the Váh.
According to GreenCoop's director of production Zoltán Kiss, the island's abundant sunshine – reckoned to be more than 2,000 hours per year – make it an ideal place to grow tomatoes in greenhouses, an advantage further enhanced by the option of drawing hot water from underground to generate geothermic energy.
"Our expansion was inevitable," Kiss comments. "We had such high demand and a lack of [locally grown tomatoes] during the year. All the tomato producers and growers in Slovakia used to grow in soil as their fathers did. We convinced people they could do it in a much more environmentally friendly way."