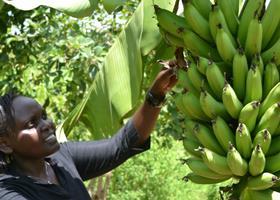 Afruibana, the association of African banana producers, has sought to highlight the cost increases experienced by the global banana sector, not least in Africa, as it argues in an open letter for a fairer and more sustainable value chain.
Maritime transport costs are expected to increase by more than 60 per cent next year, the association warned, while growing costs of production and the slowdown in supply chains were expected to increase purchasing costs by 20-25 per cent.
Given the global economic outlook, Afruibana said it expected operating costs to increase further by 3-5 per cent.
"However, it should be noted that these cost increases have so far not translated into increases in the price of bananas," it pointed out. "On the contrary, the year 2021 will remain as a very difficult year for the market, with the prices of boxes of 18.5kg, even temporarily falling below €10 according to the Cirad Observatory.
'These bottom-low levels themselves come at the end of a long and deep deterioration in the purchase prices that producers have had to cope with on their own year after year."
Afruibana said producers were relying on the commitment of their European retail partners to make banana value chains fairer and more sustainable.
"Only fair selling prices can allow a fair distribution of the value between the actors of our chain," the letter stated. "These fair prices are also key to initiating the essential investments of the ecological and energy transition of our sector during this decade.
"Everyone in our chain, from producer to end-buyer and consumer, must 'do their part' and contribute to the positive development of our sector.
'It is in this state of mind that we wish to prepare for the coming year with our partners in the retailing sector and, with them, ensure that, in 2022 and beyond, the chain that connects our 30,000 employees to millions of European consumers is always fairer and resolutely sustainable."