Season will be supported by promotions in Spain, France, Czech Republic and Poland
Anecoop has fired the starting gun on its 2023 seedless watermelon campaign with the harvesting of the first volumes in Almería in late April. As one of the group's most iconic products, the campaign will be supported by an extensive array of promotional activities highlighting the role of the farmer and the cooperative values underpinning the Bouquet brand under the hashtag #sanDías Bouquet.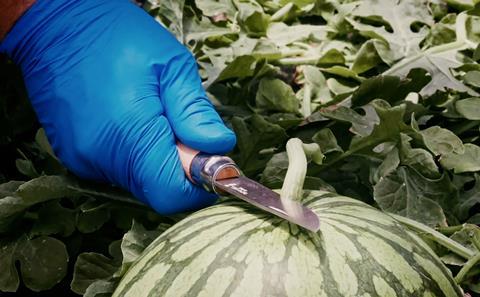 Anecoop's production begins in Andalusia, then moving on to Murcia, Valencia and, finally, Castilla La Mancha. According to commercial director Miguel Abril, planted area has increased this year, and the company hopes to recoup the export quota it reached in 2021, when it accounted for 15 per cent of Spain's total export volume.
"This, along with to the willingness of customers when it comes to scheduling the campaign thanks to the forecast of a hot summer, allows us to be optimistic and recover the hope that it will be a good campaign," he said.
Alejandro Monzón, president of Anecoop, commented: "we want to continue being a benchmark in the production and marketing of seedless watermelons, appealing to the responsible consumer who chooses brands with a social commitment, which in addition to providing quality guarantee environmental responsibility, take the side of the farmer and they are committed to a 100 per cent national seasonal product".
Anecoop's general director, Joan Mir, said efforts would focus on reaching the consumer in the most attractive way possible, "valuing the flavour, fun and health attributes of the product as well as its temporality".
Presenting the new promotional campaign, Piedad Coscollá, Anecoop's head of marketing, said it would highlight the refreshing nature of this seasonal fruit, whose season herald the arrival of good weather. The Spanish campaign, which includes online actions, as well as those in the specialised press, local radio and regional and national TV, will feature the Bouquet watermelon in some of the most 'Instagrammable' corners of the country using the hashtag, #picoftheday.
Other activities include aerial advertising on the Mediterranean during the summer. In addition, and to reinforce the link with the production areas, Anecoop has designed a strategy that is based on the choice of well-known local influencers to promote the product.
Lastly, Anecoop said it will continue its commitment to inclusive sports with the sponsorship of the AVAPACE Association of Valencia, which will hold its traditional Volta a Peu Tavernes Blanques race on 30 April, and the Fundación URA Clan de Almería, with annual support that intensifies during the watermelon campaign.
Activities will also be carried out in France, the Czech Republic and Poland in coordination with Anecoop's local subsidiaries.