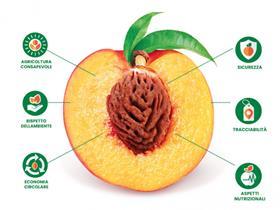 Italian fruit and vegetable producer organisation Apo Conerpo has launched a new project aimed at promoting "sustainability, quality and wholesomeness" in supply chains across Europe.
Called In&Out, the three-year campaign follows the conclusion of Fruit24, a project led by the group to boost consumption of fresh produce.
The new initiative has the backing of the EU and is designed to support tens of thousands of growers both in Italy and across the continent, helping them to produce more sustainably.
"After the positive experience we had with Fruit24, In&Out represents yet another step forward and a quality leap," said Davide Vernocchi, president of Apo Conerpo. "In fact, this new communication campaign focuses on the distinctive features of our members' products."
The main task of In&Out will be to promote fruit and vegetables that have been grown economically, ethically and with respect for the environment, while at the same time fostering circular economies that support farmers, save resources, and encourage seasonality.
There will also be an emphasis on food safety for consumers, full traceability, and the highest quality in terms of taste and nutrition.
"In&Out will provide consumers with information about the taste and quality of European fruits and vegetables, helping them discover the supply chain behind a peach, pear or apple," Vernocchi explained.
The focal point of the project, said Vernocchi, will be Apo Conerpo's own supply chain. "As a producer organisation, we represent 51 cooperatives, over 6,000 farms and 30,000 cultivated hectares," he continued.
"Apo Conerpo is a flagship for the Italian agri-food system and a model for European POs. Sustainability is in our DNA: for a while now, our members have been at work meeting requirements that go beyond the minimum threshold established by the institutions, implementing even stricter measures, activities and controls, setting even higher quality standards. As a PO we can say that we are already operating in the direction indicated by the sustainability objectives of the UN Agenda 2030."