Automated fruit packer from Global Pac Technologies and Robotics Plus reaches new levels of efficiency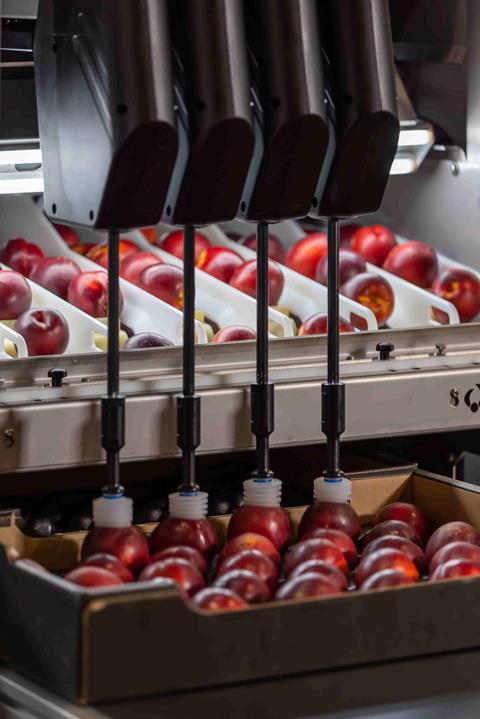 Global Pac Technologies, a New Zealand-based company, has worked with Robotics Plus to utilise cutting-edge artificial intelligence technology (AI), to increase apple production packing speeds by 40 per cent.
This upgrade has allowed the Aporo II to further enhance the efficiency improvements it has been delivering to apple packing operations worldwide.
Global Pac, a joint venture between the Jenkins Group and Van Doren Sales, are market leaders in their own respective home countries of Australia, New Zealand and North America. Global Pac partnered with Robotics Plus to commercialise the Aporo produce packer.
Cameron McInness, sales director at Global Pac said the partners are dedicated to delivering the most user friendly, reliable and sustainable packing solutions.
"This significant advancement allows our valued apple customers to achieve packing rates of up to 3,800kg per hour using a single rapid pack line, providing them with unparalleled productivity and competitiveness in the global market," he said.
McInness said Aporo II has a compact footprint that is ideal for retrofitting, intuitive controls that minimise the need for operator intervention, and a design that prioritises food safety.
"One of the key features of Aporo II is its remarkable versatility. The packer is designed to automatically pack on various materials, including paper, plastic, and fibre trays, as well as offering the option of tray or single-layer carton packing. Additionally, Aporo II leverages the power of AI to precisely identify tray pockets, whether they are composed of fibre, coloured PP, or paper," said McInness.
In response to the demand for even greater flexibility, said McInness. Aporo II now offers the capability to pack into single-layer boxes with corner covers, further expanding its application possibilities.
With packers installed in France, Italy, and Spain in 2023, Global Pac was delighted with the level of client satisfaction from European customers during the 2023 stonefruit packing season.
"It's great to hear such positive feedback from our clients. Stonefruit has been a multi-year development, and it's incredibly rewarding to see Aporo II in commercial operation in France, Italy, and Spain. We are now in discussions with potential customers in Chile for the Southern Hemisphere season," said McInness.
Aporo II is now fully integrated with the Internet of Things (IoT) through OPC Unified Architecture (OPC-UA), a machine-to-machine communication protocol which enables the centralised management of multiple Aporo units. This functionality encompasses mode setting, fault monitoring, and performance reporting, providing operators with greater monitoring and control.