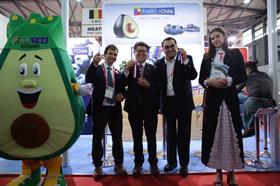 Avocados and blueberries were the stars of the show in an event organised by Asoex in China to showcase Chilean fruits and vegetables. Both products featured prominently in the FHC Pastry and Bakery Competition which took place this week under the auspices of Food and Hotel China 2016, the country's biggest trade show for the hotel, restaurant and catering industry.
"The fair has proved to be a unique and ideal platform to promote our avocados and blueberries to horeca channels in China. FHC attracts a huge number of representatives from restaurants, casinos, chefs, hotel buyers, and other players in the foodservice industry," said Asoex marketing director Charif Christian Carvajal. "Our blueberry salad and avocados pastries stood out, scooping top prize in their respective categories."
Famous Tokyo-based chefs Ricardo Gonzalez and Tomonori Gotoh were behind the winning recipes, designed to highlight the quality and versatility of both ingredients.
According to Hass Avocado Committee general manager Juan Enrique Lazo, participation in the fair is the second of several promotional activities that the committee and Asoex have lined up for the Chinese market in 2016/17, the first being Asia Fruit Logistica.
"Our aim at FHC was to introduce our avocados and the different ways of preparing and consuming them to both the foodservice industry and end consumers and we feel we have exceeded our objectives," he said, adding that winning in the pasta category had been the icing on the cake.
The committee has lined up a number of other marketing activities for the rest of the season including participation in other trade fairs, point-of-sale promotions to educate consumers on how and when to consume Chilean avocados.
César Suarez from the ProChile trade promotion office in Shanghai highlighted the inroads that Chilean fruit has made in China. According to Asoex figures, exports have increased by 18 times in the past eight years.
"Chile is one of the main suppliers of fresh fruit to the Chinese market and the only non-Asian country in the top four, the others being Thailand, Taiwan and the Philippines," he said.