Greenyard company introduces first Belgian e-truck to deliver fresh fruit and vegetables to Delhaize
Bakker Belgium has announced that for the first time, an e-truck will transport fresh fruit and vegetables to retailer Delhaize.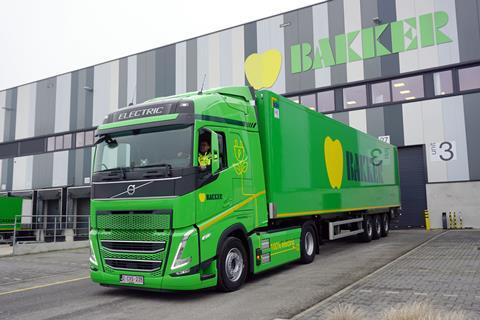 According to the Greenyard company, the new Volvo truck will deliver around 18m kg of fruit and vegetables to the retailer's distribution centre in Zellik every year.
As a result Bakker Belgium will save 58 tonnes of CO2-emissions annually.
The group said that the commissioning of the truck had been enabled thanks to the "unique, integrated and long-term collaboration" between both companies, reflected in a shared ambition to reduce CO2-emissions in the fruit and vegetable supply chain, also within their own operations.
"With this investment, we want to lead by example within our category; gain more experience and share our knowledge about e-transport with the rest of our supply chain partners," said Adrie Bakker, general manager at Bakker Belgium. "Because ultimately, we will need every link in the fruit and vegetable supply chain to achieve our sustainability goals.
"Sustainability is an important pillar in our closely aligned strategies," Bakker continued. "Fruit and vegetables already are the most sustainable food category around.
"Making our own operations and transport more sustainable is part of a multi-year plan to reduce emissions from our operations. Today we reach a milestone with our first e-truck carrying fruit and vegetables from our site to Delhaize's DC in Zellik. We expect that the new truck will cover almost 90,000km annually. That's as much as around the world and back again," Bakker added.