The first Belgian blueberries of the season have been sold at the BelOrta cooperative, which sees local blueberries as the ideal healthy snack
Belgian cooperative BelOrta has announced the year's first sale of locally grown blueberries, produced by Albert and Maarten Royakkers from Kinrooi.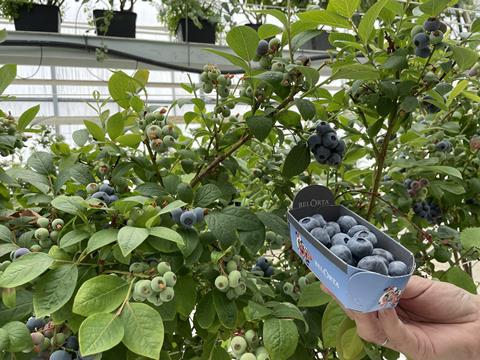 These Duke variety blueberries were bought by Fangio Winckels, responsible for purchasing Belgian fruit at Bouvry NV.
Global cultivation of blueberries is increasing rapidly, but BelOrta pointed out that blueberries have been cultivated in Belgium for several decades.
"Its popularity is not surprising," the cooperative stated. "We eat them at any time of day: from breakfast to dinner, as a snack, but nowadays we also use them in aperitifs and cocktails."
BelOrta said that blueberries' health properties, including their high mineral, antioxidant, vitamin K and fibre content, made them the ideal snack.
"A combination of several varieties and different cultivation systems ensures that production can be spread over a longer period," the cooperative said. "Thanks to this harvest spread, BelOrta can offer delicious blueberries from today until the beginning of November."