Production of sweeter-tasting varieties which offer better yields for extended periods of the year could have a dramatic impact on the berry category
Sweeter varieties that can be grown for many months year, instead of just a few weeks, have the potential to supercharge sales growth in fresh blackberries.
For companies that grow and supply the product, significant opportunities to create new demand have emerged in the past few years, and that's largely thanks to the arrival of better genetic material.
At present, blackberry sales in developed markets are estimated at no more than 10 per cent of the entire fresh berry category.
But those new varieties look set to make a big difference. Not only do they tend to offer a less sharp and tangy taste when compared to older, traditional cultivars, but several of them are also suited to cultivation for extended periods.
Jamie Petchell is co-owner and director of Global Plant Genetics (GPG), a leading UK-based IP company that specialises in products such as soft fruit, asparagus, grapes and nuts. He sees big changes ahead in a product category that is ready for a major overhaul.
"For too long, consumers have experienced an inconsistent varietal offer," he argues, "but we are genuinely seeing this reducing quickly as growers and fruit marketing businesses continue to offer better varieties."
His company sees big opportunities for a particular blackberry variety called Von. Bred at North Carolina State University by eminent breeder Gina Fernandez, it was chosen for its improved taste, yield, quality, size and shelf-life. "Von is certainly at the vanguard of improved eating quality blackberries," says Petchell.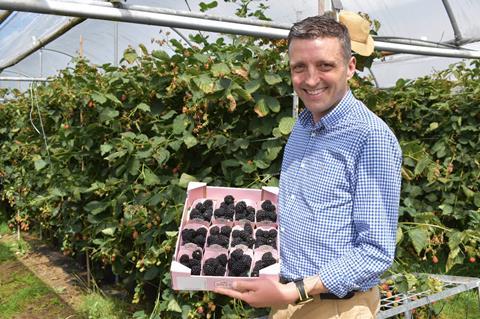 Global development
In order to prove Von's worth, GPG has worked with growers and nurseries around the world, allowing them to trial and then produce the variety. As a result, volumes are expected to increase in the coming years.
One of its earliest adopters was leading Dutch marketer The Greenery, a key supplier to major retail customers around Europe.
Five years ago, under exclusive licence for the Benelux countries, it began to trial production of Von. Since then, it has used the variety to establish a much longer window of supply than it previously had for its blackberries.
As Klaas de Jager, The Greenery's soft fruit innovation manager, explains, the variety's improved flavour and shelf-life have enabled it to provide consumers with a better eating experience as part of a premium range called Sweet and Sunny.
"Having worked with Von for more than five years now, both in trials and more recently commercial-scale production, we are convinced that it offers genuine advantages both to our grower base and retail customers," De Jager comments.
"Von presents its fruit extremely well and from this, we are seeing harvesting costs reduced by around 30 per cent compared to previous varieties grown in the same production system."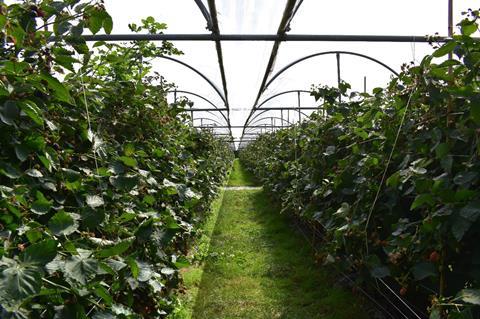 Year-round potential
The production season itself is also much longer with Von, it appears. And the main reason for this is that it can be grown from frozen long-cane plants, which can be manipulated in such a way as to allow early or delayed harvesting.
Whereas Von's natural production cycle would last around four to six weeks, the long-cane approach can apparently extend the season for more than six months. As a result, year-round supply from a single continent might be achieved if the right combination of warm and temperate climates can be found.
Rolando Garcia, research director at SynergiaBio in Chile and Mexico, recently attended a special open day to witness The Greenery's Von production for himself.
"it was very encouraging to look at the Von variety in close detail and to see the great productivity of the variety, its calibre and large size as well as excellent flavour," he says. "Having previously seen Von in South Africa last year, I knew that I liked it but a better understanding of the long-cane growing system will enable me to benefit important producers in some of my growing regions too."
For GPG's business development manager for EMEA Soufiane Lahtati, who helped to coordinate the open day, that is an encouraging prospect. "it was a great opportunity to showcase Von blackberries to growers, nurseries and advisors from Mediterranean countries. I'm really excited to see the volume of Von production expand in these territories in the near future."
New concepts in retail store design, the latest advances in vertical farming, new investment in sustainable packaging, and the development of alternative markets are among the central themes of this year's Global Berry Congress.
Click here to register for Global Berry Congress 2023
The world's leading event for the berry industry returns to the WTC-Beurs in Rotterdam on 28 November with another top-level lineup of expert speakers and highly relevant topics.
The agenda covers the latest trends and challenges that will shape the fresh berry category in the next 12 months, as well as game-changing innovations that will help the business to grow. Click here for more information.