Anecoop's mini seedless watermelon wins prize for Best Innovative Product at Organic Food Iberia trade fair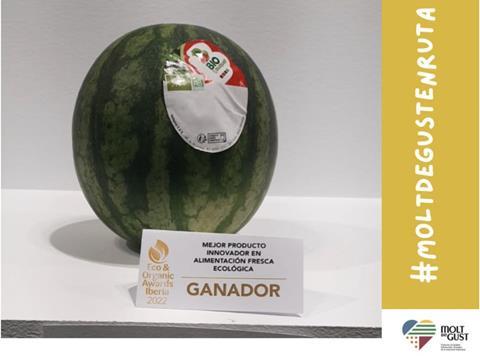 Anecoop's Bio Bouquet mini seedless watermelon has been voted the Best Innovative Product in Organic Fresh Food at the Organic Food Iberia trade fair, which took place this week at IFEMA, Madrid.
With striped rind and deep red flesh, the melon weighs 2-3kg, making it ideal for consumption in households of one or two people.
"This mini version of one of the star fruits of summer meets all the requirements to be one of the favourites in the shopping basket: it is refreshing and very healthy, low in calories and does not have the annoying black seeds," Anecoop said.
"It is a variety that, despite its small size, surprises with its greater flavour and sweetness, it is all watermelon heart. In addition, under the Bio Bouquet brand, it has all the guarantees of organic farming."
Anecoop and its organic subsidiary, Solagora, exhibited a range of organic fruit and vegetables at the fair, marketed under the Bouquet Bio and Solagora brands, as well as other organic products including its Ysi? De Bouquet guacamole, wine and extra virgin oil.
Organic Food Iberia is consolidating its reputation as one of the leading international events for professionals in the organic sector, a segment that is growing throughout Europe and has great projection.
Anecoop has made a strong commitment to promoting the cultivation and marketing of organic products as part of its commitment to meeting the objectives of the European Green Deal.
The agri-food cooperative is working to adapt its management in all areas to the low environmental impact requirements promoted by both the European Union and the UN. Last October it joined the Spanish Network of the United Nations Global Compact as a "signatory" member.
Anecoop's president, Alejandro Monzón, commented: "we and our partners are proud to receive this recognition the year we celebrate the 30th anniversary of the Bouquet watermelon, which already represented an important innovation in Europe because it changed the consumption of this fruit.
"Since then it has not stopped growing in the market thanks to our commitment to innovation and leadership as values that allow us to deliver a healthy, attractive and quality product to the consumer".