There will be an abundance of Candine and Envy apples available for Spanish consumers this season
Blue Whale anticipates a bumper crop of Candine and Envy, two of its best-selling speciality apple varieties in Spain. With new orchards in production and an absence of frosts ahead of the new season, volumes are set to more than double in 2022/23 compared to the previous campaign.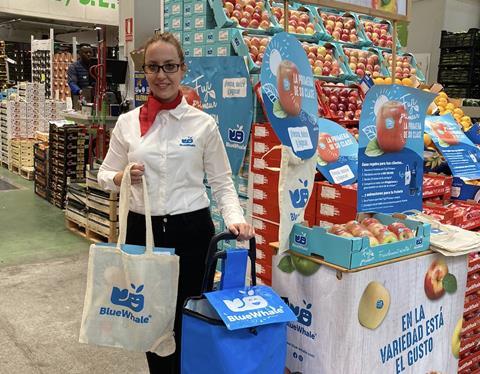 Harvesting of Candine, a variety grown throughout France, is already underway and the first volumes will be available to coincide with the start of Fruit Attraction in the first week of October. The first arrivals of Envy will reach the markets in November.
Fuji, a favourite among Spanish consumers, is already on sale, with the company expecting a similar volume to last year.
"Last year our sizes were affected by the frosts that hit the country. This season, despite the heatwaves of the summer, which can also affect the size, we will have better calibres," said export manager Adrien Touzet.
The hot weather has had some effect, however, mainly in the colouration of Galas. "To achieve good colour levels there must be a difference in temperature between day and night, and that was not the case this year," Touzet said.
To mark the start of the new season, Blue Whale has organised promotions in Madrid, Barcelona and Valencia's wholesale markets.
Under the slogan 'Fuji Primeur: the first of its kind', it is aimed at the return to school while also making reference to the fact that it is the first apple of the new season to reach the shelves. Promotional activities will run throughout this and next week.
In addition, Blue Whale will also get closer to its trusted greengrocers with a special instant messaging action. The goal is to create a channel of direct communication to keep them informed about new developments.
The actions will be reinforced by the team of brand ambassadors, who will visit fruit shops in Madrid, Barcelona and Valencia to closely follow the needs of the sector, provide advice on the correct presentation of the product and distribute to the greengrocers the wide range of promotional material that Blue Whale has prepared for them.
Customers will also have the chance to take part in a raffle to win a country weekend for two.