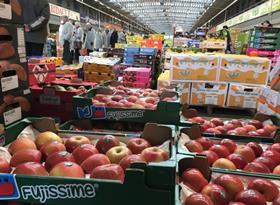 French producer-exporter Blue Whale invited a group of European buyers, customers and trade press to Paris this week to celebrate the past and the future of the company, as it laid out its strategy for the coming years.
"It is the start of spring," said Blue Whale president Christophe Belloc, during a gathering on the first floor of the Eiffel Tower, "so it is a good time to think of the future."
A new colourful company visual was unveiled, in advance of the brand's 50th anniversary next year, that highlights the central role of Blue Whale's growers, as well as the full variety offered by the group – apples, pears, kiwifruit, plums and grapes – all set in front of a backdrop featuring the Eiffel Tower, a bee, a blue whale and a rainbow.
Belloc stressed Blue Whale growers' commitment to the environment, organics, the new zero-residue label and the company's own exclusive varieties.
Managing director Alain Vialaret described the zero-residue label launched in February by the Nouveau Champs collective, of which Blue Whale is a founding member, as a third way between conventional and organic.
"The producers must respect strict specifications to obtain this label, which is approved by a third party certification body after product analysis by independent laboratories," he said. "For 2018, we expect production to reach 1,000 tonnes of Ariane, 1,000 tonnes of Gala and 1,000 tonnes of kiwifruit."
Vialaret added that it was important to anticipate trends through researching new varieties in the company's experimental orchards.
"We monitor 160 new fruit varieties every year," he said. "It can take 15 years to develop a new variety. Thanks to the efforts of the Blue Whale team, we have recently developed the Blue Reine, with 9,300 tonnes expected by 2025, and Regal You, with 660 tonnes forecast by 2020."
Blue Whale also anticipates 9,000 tonnes of Rockit, for which the company has French exclusivity, by 2020. A further 300ha of this small snack variety, which is developed in New Zealand and sold in tubes, is apparently being planted.
Regarding its non-apple range, the group announced a planting programme with Zespri that will boost Blue Whale's kiwifruit acreage from its current 155ha to 5,200ha by 2025, in addition to new pear varieties including Qtee and new plum varieties for its Metis range.
As for organics, Vialaret described the segment as "fast-developing" and pointed to last year's launch of an association for organic growers, Les Fruiticulteurs Bio De Nos Campagnes, and the subsequent launch of organic brand Elément Terre Bio.
He outlined the company's ambitious aim, to increase the size of its organic orchards from 70ha to 320ha in 2023, giving Blue Whale a capacity of 13,500 tonnes.
The company also highlighted its embrace of new technologies, including robotisation for picking and a new software programme, Rimpro, that helps growers to limit their use of chemical inputs.
"In the future, we will see the increasing use of technology, from drones to e-commerce," said Belloc. "We will have to listen and adapt to consumers' changing eating habits – right now, that means more taste, more segmentation and more quality."
The meeting was followed by a tour of Rungis wholesale market in the southern suburbs of Paris.