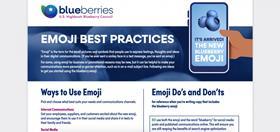 A new blueberry emoji was included in the latest set released by the Unicode Consortium and made available on devices this month, a move that is being celebrated by the US Highbush Blueberry Council (USHBC).
In a recent US survey, 46 per cent of adults associated a blueberry emoji with happiness, and another 19 per cent associated it with being hungry.
To encourage use of the emoji, USHBC will be engaging consumers through a variety of social media content and promotions.
"Consumers enjoy using emoji to add context –and pops of color –to their communications.
We are thrilled that they now have such a vivid way to show their love for blueberries and spread a little happiness," said Kasey Cronquist, USHBC president. "The USHBC is committed to helping blueberry growers, marketers and industry stakeholders grow demand for blueberries by using the new emoji to fuel consumer interest and grow market share."
To help the blueberry industry capitalise on this new marketing tool, the USHBC has developed resources to support strategic use of the new emoji.
The Emoji Toolkit provides best practices for emoji usage; pre-designed, pre-written social posts;and downloadable large-size, high-res emoji files for promotions and signage.
Blueberries continue to make a strong showing in consumer shopping carts, with dollar growth more than seven times the average of the top 15 fruit and vegetable categories sold in retail.