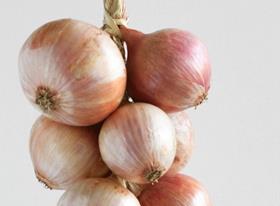 French marketer Prince de Bretagne has revealed that it expects good volumes and quality for this season's pink onions and PDO Roscoff onions.
The company thanked the timely rain, which helped with yields, and sun, which ensured thorough drying of the bulbs during harvest.
"These are good conditions which will make it possible to increase volumes alongside good quality," the marketer stated. "The season is looking good for Prince de Bretagne's offer."
Its onions are available in a variety of packaging, including plaits, tubes, net bags and sacks, and are also sold loose with a sticker, as Prince de Bretagne looks to meet customers' varying demands.
According to the company, 500g and 1kg nets made of cellulose, as well as labels made of paper, will be available by the end of the year, in time for the introduction of France's AGEC law.
"To ensure compliance with France's AGEC law and avoid waste, new packaging will be introduced as older stocks run out," the marketer revealed.