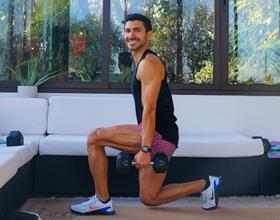 The California Prune Board (CPB) said it plans to continue working with several Italian and UK-based social media influencers and brand ambassadors over the coming months following the success of its 2020/21 marketing activities.
For its most recent campaign, board join forces with a range of social media stars, nutritionists, chefs, and athletes to increase global awareness of the benefits of California prunes.
In Italy, collaborations with a range of high-profile influencers saw the CPB reach an audience of more than 5m consumers over the last 12 months, with fitness influencer, Davide Campagna, and food influencers, Sonia Peronaci and Teresa Balzano, creating workouts and recipes and hosting online social media events to boost interest in California prunes.
In addition to renewing its relationships with Campagna, Peronaci, and Balzano, the CPB is also continuing collaborations with three key brand ambassadors.
Master chocolatier, Stefano Collomb, recently appointed ambassador and chef, Andrea Mainardi, and nutritionist, Dr. Annamaria Acquaviva will work with the Board to demonstrate the premium nature and nutritional benefits of California Prunes to Italian audiences.
Esther Ritson-Elliott, the CPB's director of international marketing and communications, said: "We have had some real success with our influencer and ambassador marketing campaigns in terms of reach and engagement, and we're delighted to build on the partnerships we have forged with key figures from the food, fitness and nutrition sectors.
"We are also looking to work with influencers operating in the women's health and wellbeing arenas, as we seek to showcase how California prunes can be incorporated into everyday lifestyles."
The CPB is also continuing its longstanding relationship with UK-based chef, author, and TV presenter, Peter Sidwell.
Sidwell's work so far has seen the creation of a wide range of sweet and savoury recipes and accompanying video content, highlighting the versatility ofCalifornia Prunes to trade and consumer audiences in the UK and beyond.
Statistics from Hootsuite show that the use of influencers in marketing continues to increase, with more than two-thirds of US marketers likely to use some form of influencer marketing next year.
The CPB said it was also exploring collaborations with leading food and healthy lifestyle TikTok influencers and has plans to continue with its YouTube advertising campaign, following a successful stint in Italy earlier this year.
Ritson-Elliott added:"We're eager to share the nutritional and taste benefits of California prunes with existing and prospective audiences.
"Using social media channels, influencers, and brand ambassadors to do this is a great way for us to engage with consumers that we may not have reached through previous marketing campaigns."