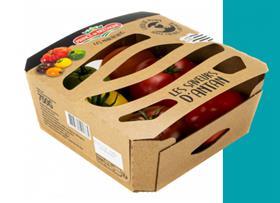 French marketer Prince de Bretagne has announced that its 750gSaveurs d'Antantomatoes and250g cherrytomatoes are now available in 100 per cent cardboard trays from September.
According to the Brittany-based group, the aim is to provide an eco-friendly packaging solution for its tomatoes, with all the cardboard FSC-certified and fully recyclable.
The new packaging is expected to save 9.6 tonnes of plastic for the 750g tray and 6.6 tonnes for the 250g pack.
Despite an absence of plastic, the new packaging still offers optimised visibility so that consumers can verify the quality and freshness of the product before buying.
Both items are also available 'Grown Without Pesticides', with no synthetic pesticides used from flowering to plate. This programme is certified by an external, independent organisation, the marketer stated.