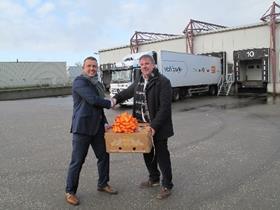 Multinational fruit company Chiquita is looking to segment its branded banana offer with the launch of a new premium banana label called Hola Banana! across Europe.
The news was announced by its Netherlands division, which is leading the brand's roll-out in collaboration with Dutch distributor Gebrs Van Aarle.
The Hola Banana! brand will be applied to class one bananas from Rainforest Alliance-certified plantations. The fruit will be available in 18.14kg boxes from Costa Rica and Panama.
"As Gebrs Van Aarle we are looking forward to making the sale of Hola Banana! bananas a success with Chiquita Netherlands," commented Frans Van Aarle, the distributor's director.
"These bananas offer our customers a means to optimise further their banana assortment and thereby meet changing consumer demands."
Van Aarle said he saw opportunities to sell Hola Banana! fruit not only through retail channels but also via clients in wholesale and foodservice.
"These bananas are also appropriate for horeca or market traders who are looking for bananas with a very competitive price/performance ratio," he said. Hola Banana! is ideal for use in canteens, nurseries and as school fruit."
Mark Grim, key account manager for wholesale at Chiquita Netherlands, added: "We are pleased that Gebrs Van Aarle is embracing the introduction of Hola Banana! We are confident that our new brand will conquer a place in the competitive banana market."