PlantSeal, Citrosol's 100 per cent plant-based coating, removes 4,000kg of waste per 100 containers of fruit
Citrosol and Jaguar The Fresh Company have announced that they have eliminated plastic packaging from Jaguar's Chinese pomelo programme by replacing individual wrapping on fruit with Citrosol's PlantSeal range of plant-based coatings.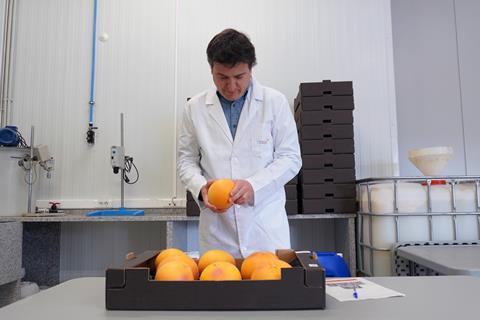 Traditionally, most Chinese pomelos are wrapped in plastic film, and with each container holding 17,000kg of fruit this equates to a saving of around 40kg of plastic film per container.
Raúl Perelló, Citrosol's international operations director, said: "This collaboration has enabled Citrosol to undertake extensive scientific studies, the results of which were presented at the first Circul-A-Bility Conference.
"Through the project 'Advances to save the packaging plastic film in grapefruit' we have demonstrated the advantages of PlantSeal as the best solution to replace the plastic film that is used to extend the commercial life of Chinese pomelos".
Sven Thomas, technical manager of Jaguar The Fresh Company, commented: "Our Group has a firm commitment to all aspects of sustainability. For decades we have placed product quality at the heart of our strategy.
"With this development we are now able to combine environmental aspects of removing plastic from the supply chain for pomelo, whilst maintaining the quality of the product.
"Together with Citrosol we have created a solid win-win situation. For every 100 containers of pomelos we are now able to remove 4,000kg of plastic waste from the supply chain".
Plantseal is suitable for vegan consumption and does not contain any plastic components. According to Citrosol, the product achieves a high degree of weight loss control, minimises rind disorders due to chilling injury, and delays the aging of fruit by reducing transpiration and respiration in a way that the quality of the fruit remains intact.
"Furthermore, it addresses the need to employ new methods to tackle export challenges with guaranteed results," the company said. "PlantSeal is currently in use at an industrial level, with the first containers arriving soon at different destinations. For growers, a main benefit of PlantSeal is that it creates access for fruit into markets that have limitations and requirements in the use of plastics."