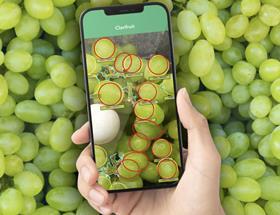 Eduardo Mazzini, commercial director at Peruvian fresh produce grower-exporter Migiva Group, says the company has long been keen on the latest technology and the development of Artificial Intelligence (AI) in the fresh produce business.
It was apparently through friends in common that Migiva came across Clarifruit, the Israel-based technology company whose software platform seeks to transform the way in which quality control is performed in the digital age, with the aim of standardising the way quality is evaluated across the entire fresh produce supply chain.

Perfect partnership
'We were searching for ideal partnerships in the development of data management and information, and Clarifruit came up,' says Mazzini. 'We started reviewing the project and fell in love right away. Since then we've been supporting each other to develop a tool that seems to be moving ahead of what everyone else is doing, in terms of getting data analysed by AI and taking away subjectivity, such as on colour and sizing evaluation. The AI-driven computer will always return the same result, which gives us more precision. We've been pushing precision agriculture in everything we do and we were lacking a tool that gave precision on quality assurance, so it's a perfect fit.'

According to Mazzini, Clarifruit's software ensures that the company can deliver to its customers exactly what they are anticipating. 'Once you have all that data analysed and uploaded on your system, you can start to get more predictive models, so you can learn and make estimates on whether a fruit is perfect for this specific customer, or that climate, or market,' he says. 'And you can start grading your fruit with the same objectives, which is an amazing tool for the sales team.'

Migiva is currently using Clarifruit for controlling the quality of its blueberries and grapes, and considers the platform a great way to stand out from the crowd.
'In this business, the way to differentiate yourself is not only by the ideal choice of varieties, which we have also been pushing, but also to differentiate in terms of quality and condition,' says Mazzini. 'If we have a tool to assist us in making the best decisions for our consumers' experience with regard to quality and condition, that's amazing.'

Elad Mardix, CEO of Clarifruit, says the platform has two key components, a mobile app that helps inspectors automate the quality control process, allowing them to take pictures, analyse all external attributes automatically, wirelessly integrate with other industry devices to collect data on internal attributes, and then upload everything to the cloud.
The result, he says, comes back in around two seconds. The other part is the management and analytic dashboard, he says, which is where the QC manager can design and manage the whole process dynamically from their own dashboard, and auto-generate reports, notifications and real-time insights that help the quality manager and the sales team to optimise business decisions. 

Through Clarifruit's partnership with Migiva, Mardix states, the company has been able to improve its algorithms and advance the software's capabilities. 'The more data we get from the growers, the marketing companies and the retailers, the better and more accurate the algorithm is going to be,' he says. 'It's one thing to build a product and have it work in a pilot mode, but it is a very different thing to have a product such as this, working commercially, with hundreds of thousands of inspections on a monthly basis, which is what we do with Migiva today.'

Future potential
Mazzini is enthusiastic about what its partnership with Clarifruit can achieve in the future. 'We're just scratching the surface of how AI can impact our business,' he says. 'The more data we put in, the more we'll be able to get out of it. Today I think it is a must for the industry. If we want to differentiate ourselves from everyone else, if we want to give our consumers the best experience possible, we need to be supported by tools like Clarifruit to assess our day-to-day business. As amazing as it looks now, what we will see from Clarifruit a couple of years from now will keep amazing us, as the software keeps learning. There really is no limit in terms of the support you can get from AI in this or any other business.'

In the next two years, Mardix expects AI to be able to analyse not just external attributes but to conduct the full defect identification process. This, he says, is the most time-consuming element of any inspection process and extremely important, especially for rejection decisions.

Also crucial is the ability to accurately predict shelf-life, and Mardix believes AI can help in this 'holy grail'. 'It's been tough to accurately predict shelf-life because the raw data that gets into the system is manual, subjective and inconsistent, so it's very hard to come up with algorithms that can reverse-engineer the influential drivers,' he reveals. 'But if we can really automate the way data is collected across the entire supply chain, from the grower to the retailer, an algorithm to predict shelf-life is going to be significantly more accurate and will help to minimise those quality mismatches along the supply chain.'

According to Mazzini, this would help Migiva Group to make precise decisions on whether to sell the fruit quickly, whether a promotion was necessary, or whether to speculate by holding on to the fruit until a better opportunity arose. The company would also be able to determine whether longer transit times were possible based on the shelf-life assessment.

'This is something we're very focused on at Clarifruit,' Mardix confirms.