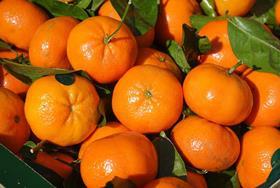 Researchers from public research institute Inrae on the French island of Corsica have found that clementines have experienced a loss of acidity since the 1960s, according to report from France Info.
The team attributed the trend in part to changes in the climate, including higher temperatures in the summer and autumn during fruit formation and ripening, as well as significant rainfall during harvesting.
A loss of acidity makes the fruit taste more watery, the researchers stated, and is of particular concern to Corsican clementines, with a minimum level of acidity required to obtain protected geographical indication.
Studying at Inrae's research unit of San Giuliano, Olivier Pailly and Laurent Julhia said there were ways for growers to keep track of the changes in fruit acidity on the tree in order to harvest at the best time.
They also revealed that irrigating during the summer and fertilising the soil were both effective in maintaining the acidity of the fruit.
Inrae boasts a collection of more than 60 varieties of clementine on Corsica, with plans to investigate trees whose fruit was previously considered too acidic.
Clementine cultivation is expected to move north in the future, research suggests, from the Mediterranean to Pyrénées-Orientales and possibly Poitou-Charentes in the coming decades.