Country commits to transforming all plastic packaging to reusable, recyclable or compostable formats
Colombia has become the second Latin American country to launch a Plastics Pact to tackle the environmental impacts of plastics and support international work developing a circular economy for plastics.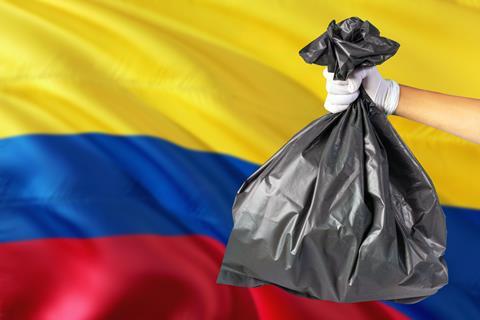 The Colombia Plastics Pact was developed and launched through a partnership between The Business Commitment to Recycling (CEMPRE) and international climate action NGO Wrap.
Colombia currently places upwards of 700,500 tonnes of plastic containers and packaging into the domestic market each year, but as little as 3 per cent is reincorporated back into packaging.
The Colombia Plastics Pact will address this discrepancy and drive forward the move to a more circular economy for plastics by working across the packaging value chain, and bringing together key players including packaging companies, producers, traders, processors, academia, trade associations, NGOs and the government in a shared vision.
Under its ambitious targets, Colombia will eliminate problematic and unnecessary plastics and transform all plastic packaging to reusable, recyclable or compostable formats. It will work to increase its plastic recycling rate to 50 per cent, and the average recycled content of plastic packaging to 30 per cent.
The Pact has already recruited major businesses operating in Colombia including Nestlé, Carvajal, Coca-Cola, Plastisol, Jerónimo Martins, Grupo Plastilene, Xiclo and Resiter and support from Acoplásticos, The Consumer Goods Forum (CGF), the World Wide Fund for Nature (WWF) and University of Los Andes. Businesses will work towards a series of science-based targets to reduce the impact that plastics has in the country and develop a more circular approach to the commercial use of plastics.
David Rogers, international director of Wrap, commented: "We are delighted to work with CEMPRE to launch the Colombian Plastics Pact. Tackling plastic pollution requires a collaborative joined-up approach between businesses, policymakers and citizens and the Pact will provide the mechanism for driving real, long term change.
"The Colombian Plastics Pact joins a growing network of Pacts around the world. This network allows us to share ideas and solutions and increase the speed of change."
Laura Reyes, executive director of CEMPRE, said: "The circular economy is the model that recognises the environmental and social value as fundamental axes of the sustainable development of countries and their territories.
"There are a number of benefits in promoting the circular economy to value chains, from improving the design of products and promoting different forms of consumption, to encouraging labour and business formality and valuing the real cost of the products we consume.
"Moreover, by adopting a circular economy for plastics we keep plastic in production chains and away from the places we need to protect, such as the oceans as well as reducing social gaps in those regions and encouraging private sector investment in new technologies. The Colombia Plastics Pact promotes the circularity of plastics and shows us that together it is possible to work towards sustainable economic development."
The Colombia Plastics Pact will strengthen the growing network of international Plastic Pacts at a key moment when plastics initiatives ­ delivered locally and supported by Wrap, the World Economic Forum and Ellen MacArthur Foundation, become more closely aligned through a global knowledge sharing network.
Colombia will benefit from the wealth of experience from initiatives in countries including France, the UK, the Netherlands, Portugal, Poland, the US, Canada, Chile, South Africa, India and Kenya, and regions including the European Union and Australia, New Zealand and the Pacific Islands.
Paula Ocampo, executive vice-president of Acoplásticos, said: ''The active participation and the collaborative work between multiple stakeholders from the plastic value chain, public and private sector, and academia allowed us to develop the elements needed to build the Colombia Plastic Pact. The next step is the most important – implementation.''