AI technology used in Tuday Prendi & Go outlet is also poised to achieve breakthrough in Spain's grocery retail market
Autonomous grocery retail has been a feature of the northern European landscape for some time, but now it seems ready to change the way shoppers buy food in southern Europe too.
This week, Italy's first autonomous supermarket opened its doors. And in Spain too, major new developments are set to deliver the same kind of high-tech, cashierless retail experience found in other parts of the world.
Portuguese startup Sensei, which specialises in autonomous, artificial intelligence store technology, was heavily involved in the development of Tuday Prendi & Vai, Italy's first autonomous supermarket, which was unveiled in Verona on 8 November.
The store offers a very fast and convenient shopping experience with no checkouts, no queues, and no need to scan any items.
Customers can simply walk in, grab the products they want and put them them in their own bag, pay at a special terminal or via a dedicated app, and leave.
Sensei's system of cameras, sensors and AI algorithms is already used in several autonomous stores across Europe and South America.
For its venture into Italy, it has partnered with DAO, a cooperative that operates retail outlets in the provinces of Trento, Bolzano, Vicenza, and Verona, where it manages the Conad brand. And in Verona it has come up with something entirely new.
As well as removing all entry barriers, Sensei has enabled shoppers to review their a virtual shopping cart in real time, before they pay and depart.
Sensei's technology also allows for a wide range of products – in this case over 3,000 – to be sold in the store.
The price of loose items such as fresh fruit, vegetables, and bakery products is calculated automatically thanks to networked weighing scales.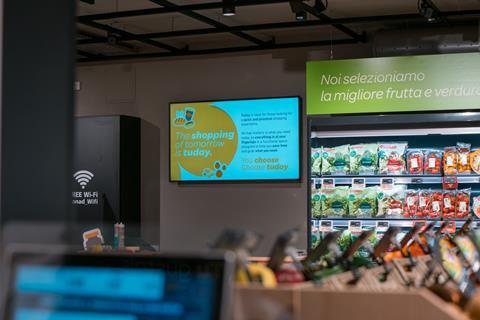 High-tech, high impact
"We are very excited about Sensei's arrival in Italy and the impact we can generate with our technology," says Vasco Portugal, CEO and co-founder of Sensei. "It is a privilege to partner with DAO to open the country's first autonomous supermarket, and we thank [general director] Alessandro Penasa for trusting us with this important project."
He adds: "We are, together, writing a new page in the history of Italian retail and shaping a new era of smart and integrated shopping. We are excited to see and support such a bold vision developing and growing in the future."
Penasa himself says his company's status as a cooperative meant it needed to innovate in order to defend its future position in the food retail market.
"We have done this without giving up our vision of business and territory: local stores where the cornerstones of our being are human relationships and serving the neighbourhoods where we are located and their communities."
Technology like Sensei's, he notes, matches DAO's vision of a neighbourhood and community store that retains its essential character, but embraces the convenience of smart retail.
The AI involved can potentially help the group to better understand shopper buying habits and adjust its inventory accordingly.
"We are embracing highly advanced technology that can make the shopping experience even more pleasant and the professional lives of our employees, in the headquarters and the stores, and our associates more qualitative and stimulating," Penasa adds.
Spanish expansion
In Spain too, Sensei looks set to push the boundaries of grocery retail. "We are already working with one of the main retailers in Spain to develop the largest autonomous store in Europe," says Portugal.
"In addition, we are working with one of the most relevant food and beverage brands to launch the first convenience point of sale in Spain in a tourist area," he reveals.
For Ainara Andueza Iglesias, general director of Sensei Spain, it's a huge opportunity: "We are planning our entry into this strategic market, where we hope to lead the retail revolution with our innovative technology and improve the lives of Spanish consumers with cutting-edge retail solutions," she concludes.