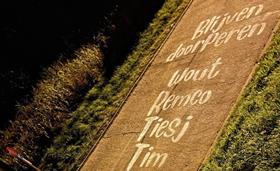 During the World Cycling Championships in Flanders, Belgian cooperative BelOrta encouraged the riders with special road markings, urging: 'Keep going!'
While shining a spotlight on Belgium's cycling stars, BelOrta also ensured that another homegrown star, the Belgian Conference pear, couldn't be missed either.
"For us, pear cultivation is also a top sport," said Glenn Sebregts, BelOrta's head of marketing. "That is why we like to connect it to the race. Hard work, respect for localness and health – these are values ​​that we share and like to put in the spotlight. Especially because the Conference, as the most popular pear variety among Belgians, has been under pressure in recent years. With this playful promotion we are supporting our riders and at the same time giving pear sales a sporty boost!"
In recent years, the cooperative laments, the Conference has lost some ground in family budgets. "It's a shame," BelOrta stated, "because the price has remained stable, the pear is local, healthy and tasty."
Every year, 357,200 tonnes of Conference pears are harvested in Belgium, including a daily volume of 23,800 tonnes during the high season. BelOrta has 202 growers, with over 2,176ha devoted to Conference cultivation.