Firm becomes first fruit grower in South America to receive CarbonNeutral product certification for its organic apples
Chilean exporter Copefrut has become the first fresh fruit company in South America to be awarded CarbonNeutral Product certification by Climate Impact Partner for its organic apples.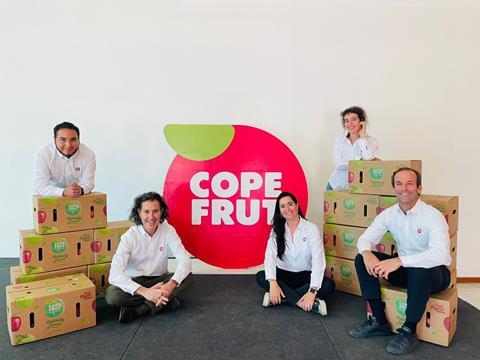 Copefrut was able to calculate, mitigate and offset greenhouse gas (GHG) emissions from the cradle-to-door life cycle of its first customer for its organic apples, establishing a new milestone for the global fresh produce industry.
Climate Impact Partner's CarbonNeutral standard takes into account each stages of the product's life cycle, from obtaining raw materials, agricultural activities, packaging, and storage to international market transportation.
"This certification not only demonstrates our commitment to the environment and the sustainable development goals that we adhere to with our sustainability policy, but also reflects an exercise in consistency with what organic production means," said Andrés Fuenzalida, Copefrut's general manager. "Now we can say that we have a totally sustainable product."
The initiative aims to develop an agricultural model that is increasingly sustainable but also more transparent. "The agricultural sector has a significant impact in terms of emissions at a global level and Copefrut, through its carbon neutrality programme, is contributing to its mitigation," said Felipe Sepúlveda, executive director and founding partner of Carboneutral Chile.
"By being the first to have this certification within the agricultural industry, it sets a very relevant precedent in the sector. It directly contributes to generating not only positive impacts associated with climate change, but also its carbon neutrality programme contributes to generating positive impact on 15 of the 17 United Nations Sustainable Development Goals."
The result of measuring and neutralising the total gross emissions generated in 2023 from Copefrut's organic apples is equivalent to avoiding emissions from the full charge of almost 200m cell phones or from the electricity consumed in a year in more than 300 homes. Copefrut's offset portfolio is made up of carbon credits from two Latin American projects: a wind power project in the Biobío region of Chile; and a REDD+ project in the state of Acre in the Brazilian Amazon rainforest, which aims to prevent deforestation of hundreds of thousands of hectares, protecting one of the most biodiverse habitats in the world.
"The certification of this product makes us especially proud, since we firmly believe that mitigating the environmental impact of our operations is not enough if we do not include our indirect emissions," Fuenzalida continued.
"We are a company that seeks to provide quality of life by sharing its fruits with the world and embracing responsible environmental initiatives that powerfully and urgently address the current climate crisis."
Climate Impact Partner is a leader in the development of high-quality and impact solutions for the climate action in the carbon market, collaborating with leading companies in the fight against climate change to support more than 600 carbon reduction and removal projects in 56 countries.