New weekly service will start on 16 September 2023 in Montevideo, Uruguay
Cosco Shipping is to launch a new weekly service connecting Northern Europe and the Mediterranean with the East Coast of South America. From September, ESE2 will including the fastest transit time of only 12 days between Algeciras, Spain and Santos, Brazil.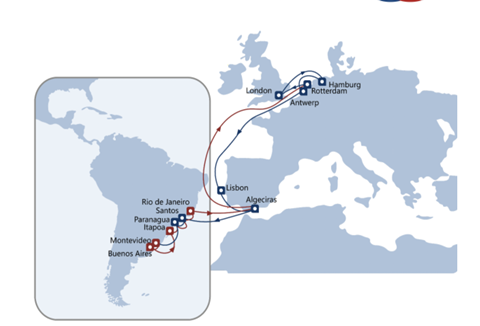 ESE2 fully covers the South America East region, radiating to markets such as Brazil, Argentina and Uruguay more effectively. Callings such as Santos, Rio de Janeiro, Paranagua, Itapoa and other major ports in Plata have been included.
The new service will call at various base ports in Europe, including consumer markets such as UK, Germany, Netherlands and Belgium. Cosco said customers will be able to rely on more precise delivery to the European region, while "the calling of Lisbon reflects the diversity of this service and will boast the continuous development for potential market".
"ESE2 provides a stable weekly service and offers very competitive transit times from East Coast South America to Europe, for example connecting Santos with Rotterdam in only 18 days and vice versa in 26 days," Cosco said.
"By using its supply chain products and European feeder network, Cosco Shipping connects all areas in Northern Europe and the Mediterranean area with main economic regions of East Coast South America.
"With the launch of ESE2, Cosco Shipping as a trusted partner and supporter of long-term development demand for customers further strengthens its customer-centric concept with faster transit times, reliable schedules and comprehensive coverage."
The new branded ESE2 service will commence in Montevideo, Uruguay on 16 September with Cosco's Xin Nan Tong becoming the first vessel on the new route. In Europe, Xin Chong Qing will start operating on 21 September from Rotterdam.
The rotation is as follows:
Rotterdam – London Gateway – Hamburg – Antwerp – Lisbon – Algeciras – Santos – Paranagua – Montevideo – Buenos Aires – Itapoa – Paranagua – Santos – Rio De Janeiro – Algeciras – Rotterdam.